Breakfast ideas to keep you full of energy
by Mal – Saturday, 19. May 2018
Many traditional breakfast foods are high in carbohydrates. Because carbs supply you with energy, it might seem logical to start the day with a carb-heavy bowl of cereal, granola or muesli. However, the energy we get from carbs tends not to last long, leaving us hungry before it's time for lunch. Even worse, a high-sugar breakfast can lead to an energy dip or crash. Unfortunately, sugar isn't always obvious and can be hidden in some of our favorite granolas, cereals and yogurts. Choose a high-protein or high-fiber breakfast to start your day instead. Nuts and eggs give you plenty of filling protein with no carbs or sugar. Leafy green vegetables blended into a smoothie provide plenty of nutrients and fiber.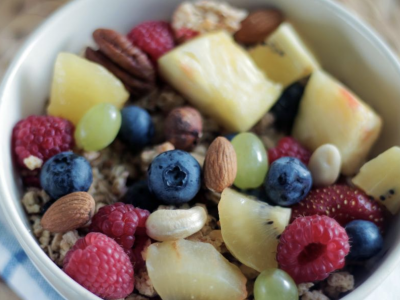 People tend to look for low-carb meal inspo for different reasons. Whether you like to eat a low carb diet for weight loss or are gluten-free or dairy-free, the idea of eating low-carb meals or even a low-carb diet should be considered by everyone, especially when it can be done correctly and healthily. Making sure you get a wide range of nutrients, not too much sugar but enough calories to power your day is essential to feeling good, performing well and functioning at your best.
Here are a few easy low-carb breakfast ideas that are not only big on flavor, but will keep you feeling energized, satisfied and full until lunch (or later!).
1. Eggs in a half avocado
Take an avocado and cut in half – remove the pit. Place one half in a ring of aluminum foil so it stays upright and brush the top with olive oil. Crack an egg into the center of the avocado (if your avocado is small, make an extra bit of room by scooping out with a spoon). Sprinkle with salt and paprika. Repeat with remaining half. Broil for 5 minutes. Add a squeeze of lemon or lime and a dash of red pepper if you like to spice it up.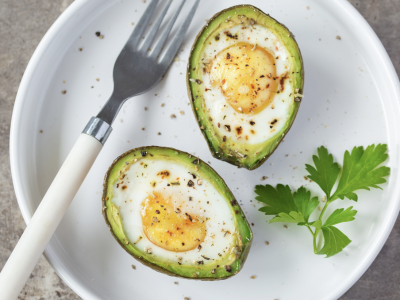 2. Green Smoothie
Blending your favorite fruits and veggies in a smoothie is perfect if you're in a rush to get out the door, and can easily be taken on the go without disturbing others on that crowded train or tram (see our other article: Eure ideale Smoothie-Flasche To Go). If you prefer and can make time for a sit-down (and Amen to you!), make a smoothie bowl your go-to. All the goodness of a smoothie with the satisfaction of a proper, and pretty, meal.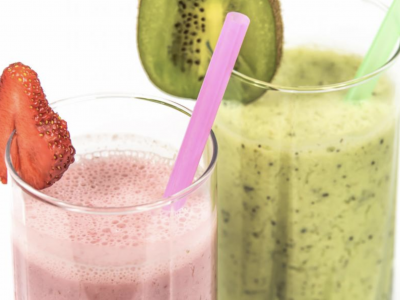 Start by blending up your favorite greens (try kale, spinach, avocado and/or cucumber as the ultimate energizing combo) and a dash of water or milk. The amount of liquid depends on how thick you like your smoothies. Add or top with berries, nuts and seeds.
3. Veggie omelet
This protein-packed breakfast is a classic for a reason: it's a great way to get protein from eggs plus nutrients from veggies. Ditch the cheese or hold back on over-doing it if you can. Try to aim for three to five different vegetables. Some of my favorites are spinach, mushrooms, tomatoes, and of course, avocado. I love adding Coriander (Cilantro where I come from). You'll be sure to taste the rainbow!
4. Homemade granola
There was a day when I couldn't resist some crunch in the morning, and granola with yogurt and blueberries was my daily go-to. I was lazy then, but making your own low-carb granola could be a life saver if this sounds like you. Many granolas, even here in Switzerland, are loaded with sugar. This is your sure-fire way to ensure there's no huge amount of sugar that will lead to a crash later in the day.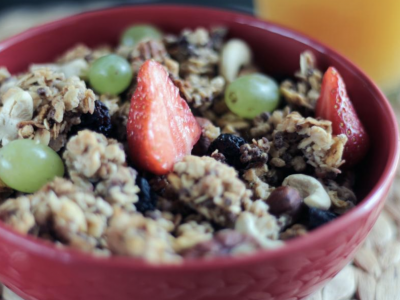 In a large baking tray, toast with coconut oil a mixture of coconut flakes, chopped nuts and whole seeds seasoned and an optional touch of cinnamon. There's still nothing wrong with a little sweetener (I believe in everything in moderation!), so add a little honey or maple syrup as desired. Store in an airtight container and combine with a natural yogurt and optional berries in the morning.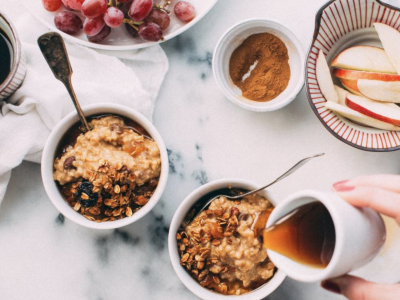 5. Chia Seed Pudding
These thick pots of goodness are full of fiber and protein, and although they need to prepared the night before, are totally worth the effort. Mix one part chia seeds with two parts milk. Throwing in a serving of protein powder is a good way to add some sweetness as well as boost the protein content. Stir well and leave in the fridge overnight. The next morning, the chia seeds should have swelled and absorbed all of the liquid, resulting in a thick, pudding consistency. Now it's time to get creative – add chopped fruit (fresh or dried), nuts, coconut flakes, berries or any other toppings you think might work well.