Healthy Latin inspired recipes
By Anna – 16 February 2022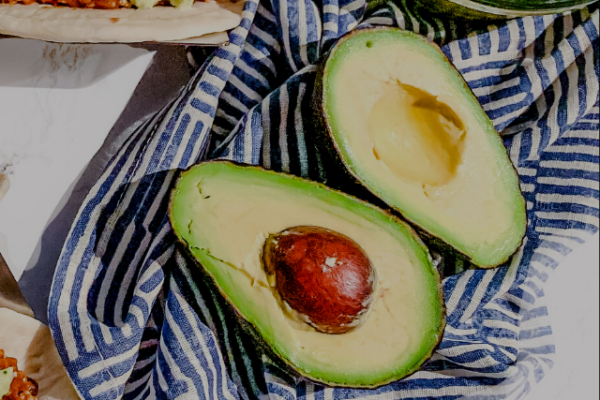 Are you missing the heat? Spice up your weekly dinners with these Latin-inspired dishes. They are healthy, flavorful, and easy to make. While Latin American dishes are often seen as decadent and indulgent, they don't have to be. Try these guilt-free recipes that are bound to pack a bold and exciting kick.
Red Quinoa Con Pollo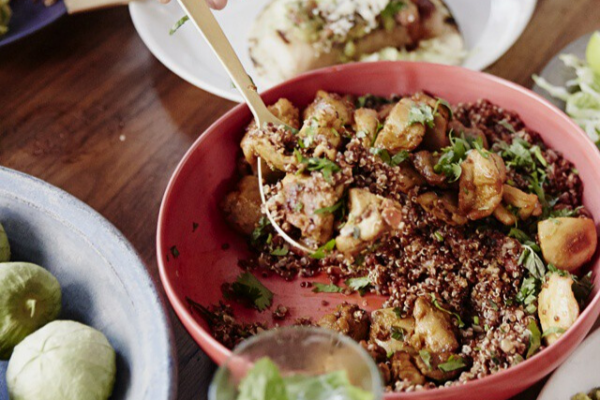 Photo Credit: @healthylatineating
Serves 4
Chicken with rice, but with a spin. By replacing the traditional rice with red quinoa, we add a punch of protein, fiber, and iron to the dish. A healthier, but equally delicious dish inspired by arroz con pollo.
Ingredients:
5 tablespoons olive oil
4 boneless chicken thighs (about 1 1/4 pounds), cut into 1-inch cubes
kosher salt
1 tablespoon smoked paprika
1/4 teaspoon ground cumin
1/4 teaspoon ground turmeric
1 cup onion, chopped
1 tablespoon garlic, chopped
1 tablespoon fresh ginger, chopped
2 cups dry red quinoa
1 1/4 cups tomatoes, chopped (or canned)
1 tablespoon fresh oregano, chopped
2 tablespoons fresh cilantro, chopped, plus sprigs for garnish
1/4 cup pitted green olives
Instructions:
In a large bowl, combine 1 tablespoon of the olive oil with the chicken, 1/2 teaspoon salt, paprika, cumin and turmeric. Mix well and let sit at room temperature for 10 minutes.
Heat 2 tablespoons of the olive oil in a medium saucepan over medium-high heat. Sweat the onion, garlic, and ginger until aromatic, about 6 minutes. Stir in the quinoa and add 2 1/2 cups water and bring to a simmer. Add the tomatoes, oregano, and cilantro, then cover and remove from the heat and let steam undisturbed for 20 minutes.
In a large skillet over medium, heat the remaining 2 tablespoons of olive oil. When hot, add the marinated chicken and cook until golden on all sides, 3 to 5 minutes.
To serve, fluff the quinoa with a fork, season with salt to taste. Transfer to a large platter, top with the chicken and garnish with the olives and cilantro sprigs.
Lentil Soup with Kale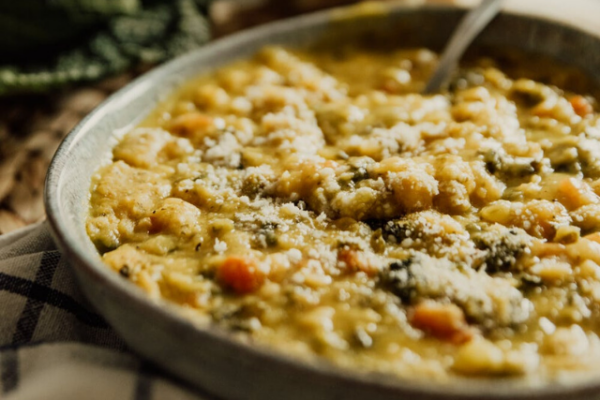 Serves 4
This recipe is a Brazilian staple for the winter months. It's warm, comforting and lentils are considered a good luck food. An added benefit: kale contains fiber, antioxidants, calcium, vitamins C and K, iron, and a wide range of other nutrients.
Ingredients:
1 Tbsp olive oil
1 onion, diced
2 carrots, diced
1 celery stalk, diced
3 garlic cloves, chopped
5 cups chicken stock or vegetable stock to make the dish vegetarian
1 tomato, diced
1 cup lentils, brown or green, dry, rinsed
1 bay leaf
1 teaspoon paprika
1/2 teaspoon ground cumin
½ teaspoon chili flakes/power (optional)
½ – 2 cup chopped kale, veins removed
Salt and Pepper (to taste)
Instructions:
In a soup pot, heat the olive oil over medium-high heat, add onions and sauté until soft, 2-3 min. Reduce the heat to medium and add carrots, celery, and garlic along with all the spices, mix well and cook for 4-5 min.
Add the chicken stock, diced tomato, lentils, and bay leaf. Combine well and increase the heat to bring it to a simmer. Reduce the heat to medium-low and cook, covered, until the lentils are tender, 25-35 min. Stir the soup occasionally and add water if necessary. Add the chopped kale. Continue to simmer until the kale has wilted, 1-2 min. Taste the soup and adjust the salt and pepper as necessary. Enjoy!
Creamy Vegan Bowls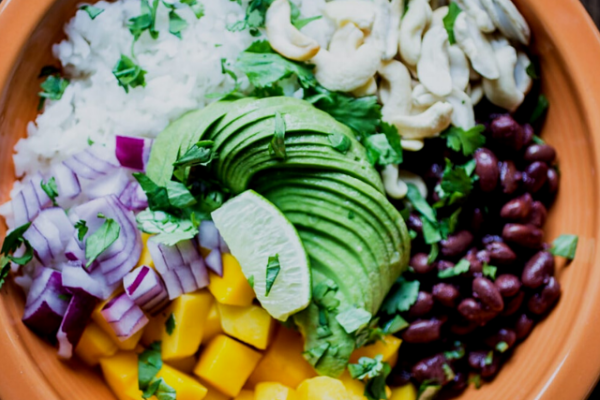 Photo Credit: The Wanderlust Kitchen
Serves 4
Super easy, filling, and extra creamy. This recipe will quench your hunger for more than tasty food – it's like sunshine in a bowl. A staple to be reminded of the warmer months to come.
Ingredients:
2/3 cup full-fat coconut milk
1 1/2 cups long-grain white rice
1/2 teaspoon salt
1/4 cup shredded coconut
2 cups cooked/canned black beans
1/2 teaspoon cumin
1/4 teaspoon coriander
2 small mangoes, pitted, peeled and diced
2 ripe avocados, pitted, peeled, and sliced
1/4 cup diced red onion
1/2 cup cashews
1/4 cup chopped cilantro leaves
Lime for serving
Instructions:
Add coconut milk, rice, and salt to a large pot with 1 1/2 cups water. Set the pot over medium heat and allow to cook until the liquid drops below the level of the rice. Stir the pot, cover, and turn the heat down to low. Cook for an additional 10 minutes. Turn off the heat, stir in the shredded coconut and re-cover. Allow to rest until ready to serve.
Mix the drained black beans in a small pot with cumin and coriander. Heat over medium, stirring frequently, until warmed through.
Divide the cooked rice, warmed beans, mango, avocado, onion, and cashews into four shallow bowls. Top each with cilantro and serve with lime wedges.
Try something new and maybe you'll be inspired to shake up more than your weeknight dinner.
This week's Carnival special is full of emotion and passion, rhythm and movement, so check out the schedule below to book your workout.
¡Baila!

Sources:
Red Quinoa Con Pollo – Instagram
Lentil Soup
Vegan Bowls