Rider Spotlight: Ana
by Anoushé – Thursday, 7. December 2017
Ana is a student, will soon start her Masters degree at HSG and has been riding at Velocity for over a year. Read on to find out more about her cycling experience, how she feels post-class, and why she just can't choose a favorite instructor.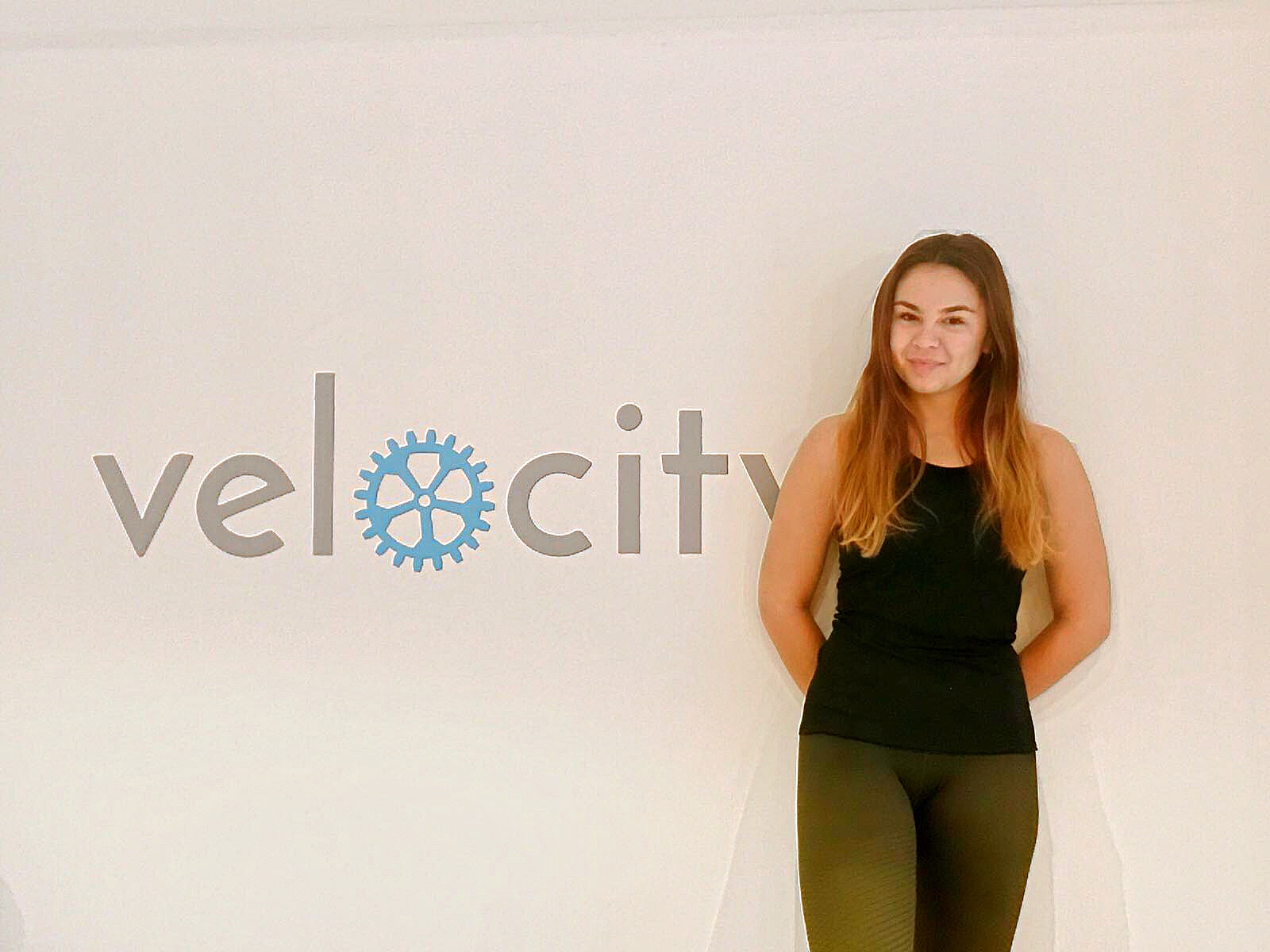 You first experienced boutique cycling in the US. How did you start?
My dad, who spends a lot of time in Miami, told me about Flywheel and thought I might like it. Honestly, I used to believe that spinning classes were pretty lame, however, there I was proven wrong! I walked in with no expectations at all, but was absolutely amazed by the energy in the room, the ambiance, the dark lighting, and the loud, amazing music that makes you forget everything else! I was hooked from day one.
Were you always into fitness?
Honestly, not until I turned 17. My dad always encouraged my sister and me to be more active, even trying to bribe us – haha! I did take him up on his offers and joined some boxing classes, bootcamps and other trainings. However, it never clicked with me until I realized how good exercise actually is for my mind, body and soul. The feeling you have after an awesome workout is irreplaceable! Also, in times of social media (Instagram), inspiration and motivation are all around you. I think what ultimately made me stick to a fitness routine is the community, the feeling you have during and after, and the fact that workouts can be so diverse and fun (music, lighting, trainers).
What brought you to Velocity?
My dear friend Anoushé lead me to this fab place! What I liked the most about cycling studios in the US were, on one hand the energy and community, and on the other hand the ability to track your progress and compete (like in Veloburn here). Back in Zurich, I was in desperate search of a place where cardio was challenging and fun. Most important to me was good music, nice amenities and cool people around -all of which I have found here! Velocity is professional, but also remains personal and unique!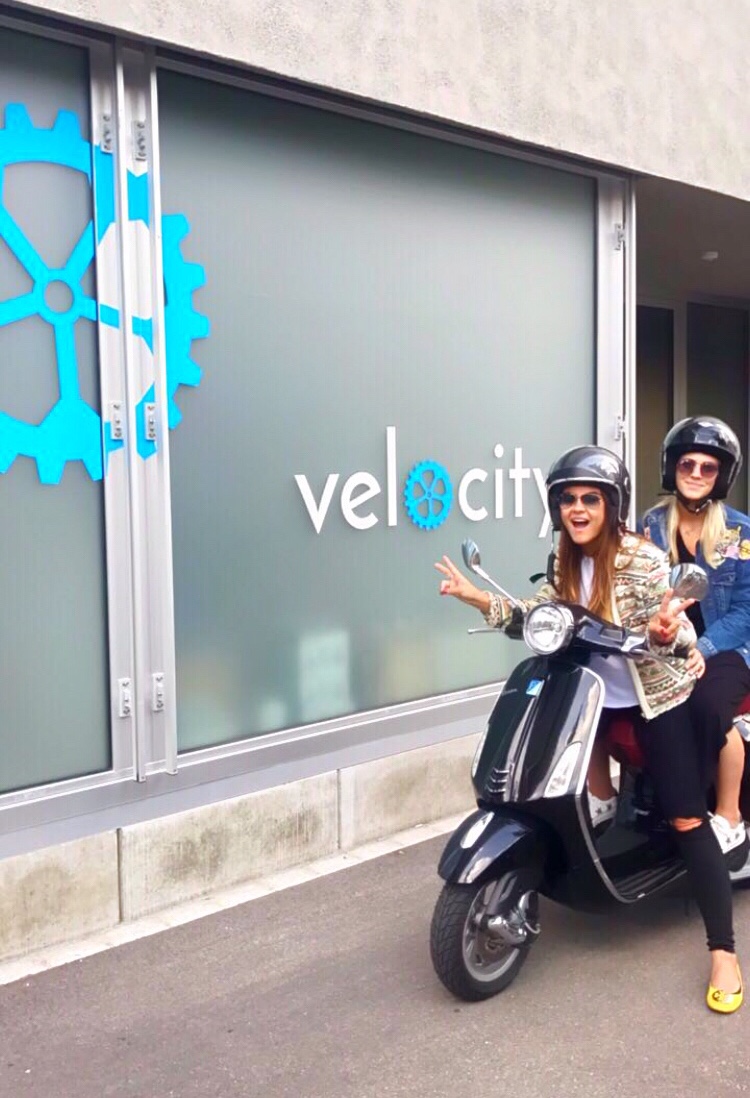 How does the experience here compare to other studios?
Whereeee should I start?? I started training at Velocity due to many reasons. First, these 50 minutes of cardio rather feel like a party that passes by too fast! For me, it is a time to shut off anything else that might be on my mind and focus on the moment and myself. Second, I get to trace progress and compete with friends and other participants, which really pushes me to limits I would otherwise never reach. Third, the studio is beautiful. Providing you with towels, shoes, a beautiful locker room and showers. It provides me with all I need! Lastly, what has really kept me here, is the community. Walking into the studio feels like coming to visit friends, inspirational people and a welcoming community. The positive vibes here are so genuine and attracts even more awesome people. It's just a great place to be around!
From the beginning you have been riding front row – wasn't that intimidating?
When I started cycling, I used to hide somewhere in the middle to be honest. However, as time passed I became more comfortable with the different positions and also more competitive. At one point, all the bikes were booked except for the front, so I went for it. I never booked another bike ever since! Yes, front row might be intimidating but it is also the most captivating! Being exposed to the trainer and to the others in the rows behind you is another motivation for you to push through and not give up!
You regularly ride multiple times a week and have brought friends along as well. How does Velocity make you feel? There must be more to it than "just" a good exercise class, especially since you are getting others hooked as well.
What I love most about Velocity is the feeling I have when I'm there! There is no other exercise class I am excited about every single time as when I am heading to a Veloburn or Velobeat class. On the one hand, during class I feel so inspired and motivated to give it all I've got, forgetting everything and focusing on the moment! On the other hand, the community at Velocity is so genuinely welcoming and positive! Every single person who works and rides there is so nice and open, which is why I love introducing my friends to this great place and help let the community grow! It truly feels like family.
Do you have a favorite instructor you really connect with?
Honestly, all instructors are awesome in their own ways! Some are challenging and motivating (shout out to George's "loud voice" haha), some more laid back and cool, and others very inspirational. However, all of them try to bring out the best in you and are very professional and experienced. What I love is that they all hang around after class and chat with you! Some I've even connected with on social media, as I love talking to them and coming back feels like visiting friends! Sooo picking someone is really hard and really depends on what I'm in for! However, let this also be a shout out to Celine's dope playlist she updates every time!
What I think is important to mention too, is the front desk team! They remembered my name the second time I came into class, which has made me feel so welcomed and a part of the community already. As I usually go to classes in the evening and at the weekends, I have mostly encountered Anoushé, Adrienne, Diego and Mal. They all greet me with huge smiles, positive energy and are always up for a chat.
Thanks, Velocity!