Interview with Zurich Hip Hop Yoga
by Gold – Thursday, 19. October 2017
.
Velocity recently sat down with the founder of Zurich Hip Hop Yoga, Goldiss Nekouei, to learn more about her foray into combining beats and flows:
.
VC: Hi Gold! You have such an unusual and wonderful name. Tell us about yourself!
Gold: Hey Velocity! So a bit about me.. I moved from my birthplace Isfahan, Iran to San Diego, California at 2 years of age. Most of my life has been in sunny California except 10 great years of my adolescence in small town USA, Haslett, Michigan. GO STATE! My work experience went from bartending to corporate sales to now living my dream jobs, a Montessori Educator alongside teaching yoga. World travels led me somehow to landing here and residing in beautiful Switzerland.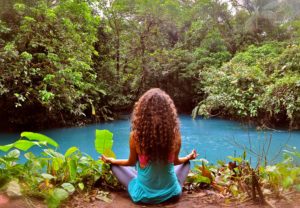 VC: Okay, so then how did you get such an unusual name?
Gold: It is a Persian name, the sound Gol means Flower and diss Like , so flowerlike. My mom's name is Golnar, the name of a type of flower in Persian, so she liked the similarity to her own but also the uniqueness, even for Iran it is not a common Gol version name.
VC: Okay, so yoga is your passion. Tell us about your career there.
Gold: I did my first yoga class over 15 years ago and fell in love right away. I loved that its was physical but also calming.. After my experience grew over the years I decided to do training, first in HOT style yoga with Corepower yoga, a huge name for yoga in the US with a very competitive teacher training process. I think that rigorous process is what made me strong enough to actually get up in front of others and guide them with confidence! It is my overall collective life experience though that now makes me the teacher I am today—real, open, and on point! 😉 My classes share my light-hearted and laid-back Californian attitude, always  being set to motivating music with a focus on breath, body awareness and meditative intention—but fun is the most important factor for me! In California I continued my training and am now a certified teacher of HOT, Yin, Power Vinyasa, Aerial and Kids Yoga. I am extremely passionate about sharing all the different healing powers of yoga with students of all ages and levels!

VC: Kids yoga! That must be so fun and … challenging? Or are we totally off?
Gold: No not off at all, it takes a lot of energy to command the attention of children ages 2-6 and keep them centered enough to do yoga ! However just like most they fall in love right away with how it makes them feel and commit somehow, they even beg for Svasana or sleeping pose.. but that is also because I give them massages 🙂 The classes also include a lot of music with singing and even chanting and lots of games, which keeps it fun.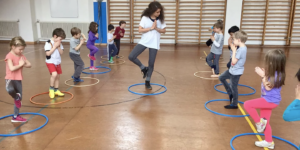 VC: How did you come up with the idea of Hip Hop Yoga? And when can we flow with you?
Gold: I was inspired by trying it for the first time myself in LA, when I did, I knew right away that it would be my jam! I also knew it would relate really well to people of Zurich who love hip hop also. Ive been an avid hip hop listener since the early 90's so that means I know all the good shit! STRAIGHT OUTTA CALI ;)) Making the playlists is really fun for me and then doing yoga to music that pumps me up so much well that feeling is contagious and gooood. I also love how raw hip hop music is and feel that relates directly to yoga—where you get real with yourself, there is no bullshitting with your body when it comes to yoga I feel.
You can find all my classes are posted on my FB page ZH HIP HOP YOGA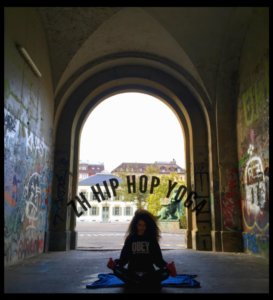 VC: Favorite color?
Gold: black.
VC: Favorite food?
Gold: Cali Mexican
VC: Favorite thing about living in Switzerland?
Gold: Efficiency !! Haha.. no really.. coming from Cali I deeply miss the ocean and beach culture but do NOT miss driving and traffic! I love the public transport here and the respect people have for it! With time I also came to love the vibe and culture of Züri and of course I love me some hiking in the mountains and cheese !
VC: Thanks so much! It was wonderful talking to you and we look forward to many more collaborations in the future!
Gold: THANK YOU!!