Trick or Treat Your Body: 5 Tricks to Motivate Yourself for a Workout
by Kim – 2
. October 2020
Halloween season is here and with it comes the time for "trick or treating". Usually, this phrase is used by children in costumes who travel from house to house in their neighborhoods asking for "treats", i.e. candy. The "trick" refers to a playful threat to perform mischief on the homeowner or their property if no treat is given. In this blog post, I will be using the word "trick" in a different context – as in, "tricks" to help you "treat" your body by motivating yourself for a workout!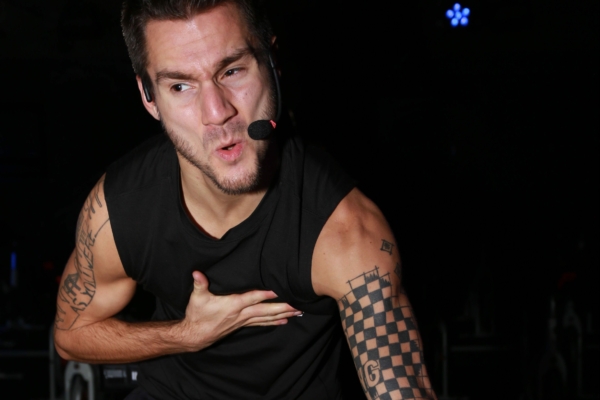 Tricks to Get Yourself Motivated for a Workout
We all know the struggle when it gets colder and darker outside. It's a real challenge to get our asses off the couch and into our workout clothes. To change some habits and get you ready for the winter, here are five tips to get motivated:
1. Get PREPARED.
Put your workout clothes in your bag the night before, so you won't forget them! If you carry your training clothes with you all day, you have more motivation to use them. Getting prepared also includes planning workouts in advance or holding yourself accountable by planning to train together with a friend.
2. Get DRESSED UP.
Buying yourself some new workout clothing can give you fresh motivation to get on the bike or Xformer machine. Plus, when you look great – you also feel great! This week, we are also creating opportunities to take "dressing up" to the next level with our Halloween Theme workouts. Dress up in costume, post a pic on Instagram, and tag Velocity for a chance to win a free credit!
3. Dare to CHANGE IT UP.
Trying a new workout, a new coach or even taking a new route to the studio can help you stay interested in working out consistently. Walking or running instead of driving/taking public transport can also be a good extra challenge to switch it up. Doing something new is exciting and who knows, you may find a new type of exercise to engage in regularly. Velocity offers three different workout concepts and with a lot of different coaches who all have a unique style – try them all!
4. FUEL UP!
An empty stomach can be a workout killer. Keep your favorite bar and sports drink in your backpack – make a point to fuel up and hydrate. Once you have some nourishment, your body will be revved up for an awesome workout! In addition, you can already plan what you'd like to eat AFTER the workout to give yourself that extra motivation.
5. Find the right MUSIC.
If you're working out alone, try to compose your workout playlist on Spotify even try to put together a list which is as long as you want your workout to be, so then you know when the last song kicks in that you're almost done! Follow Velocity on Spotify for some inspiration or ask your coach after the class if a particular song made you feel awesome during the workout.
Treat Your Body to a Velocity Workout this Halloween
Hopefully, these tips will help you to kick yourself in the ass, get up, and treat your body well with some sweaty, powerful workouts. And don't forget to dress up for the Halloween theme workouts – best costume wins a FREE credit!