Patrick Wehrli – A Swiss Artist with Drive –
Switzerland's Biggest Graffiti Artist Collaborates with Velocity
by Cameron – Wednesday, 7 September 2019
WHO IS REDL?
Patrick Wehrli, also known as Redl, is a world renowned artist working as an illustrator, graphic designer, and freelancer with a passion for the medium of graffiti and spray paint. Born in Zürich in 1969, he developed an early passion for drawing in his childhood, but it was the hip-hop culture that swept Europe in the 1980's that made way for a fascination with street art and graffiti.
In 1983 he sprayed his first painting and continued to develop his work while attending a preliminary course of the School of Applied Arts and an apprenticeship as a photo retoucher. Steel and stone remained the preferred canvas as he became one of the most important benefactors to the Swiss graffiti scene in the 90s. He took his talent to other locations all over the world, making expeditions to places like Berlin, Amsterdam, New York, and Quito broadening his portfolio of designs and encountering some of the worlds most well-known graffiti artists along the way.
In 1993, he founded artworks.ch and since then has worked as a freelance artist, graphic designer and illustrator. In the past 20 years he completed projects at home and abroad for numerous companies, public institutions and private clients. His work ranges from mural art in Egypt, Belgium, Italy and Switzerland to logo design for the Zurich biotech company Molecular Partners. Other customers include Swiss Olympic, Openair Frauenfeld, Adidas, Street Parade, the City of Zurich, Migros and many more.
Today Redl is an established graphic designer, illustrator and graffiti artist with a broad customer base. Since 2012, his works have increasingly been seen on facades and in galleries.
YOU MAY KNOW HIM FROM…
The many works you pass by everyday. Some of these include brilliant pieces such as Melodie, a 24 meter mural near Escher-Wyss Square in Zürich.
You probably have also passed by the Mural Lucia on Forchstrasse or Mural Sunny on Four Walls at Fischer Fritz, among so many other creations that exist around the city and the world.
HOW WOULD HE DEFINE HIS STYLE?
Unexpected and to the point.
This is clear in every project that Redl develops. He pushes the limits of imaginative creations, using his style and expertise to build vastly different works that tell their own story. He describes each stroke as "dynamic and filled with life." One can spend much time gazing over the fluid lines and striking colour that transforms into a breathtaking displays of art.
His images and designs have a strong element of movement to them. He is a true master of working with the architectural geometry of his walls and bringing it's dimensions to life. Beyond graffiti, Redl blends his technical quality and ambitious standards into digital art and sketches as well.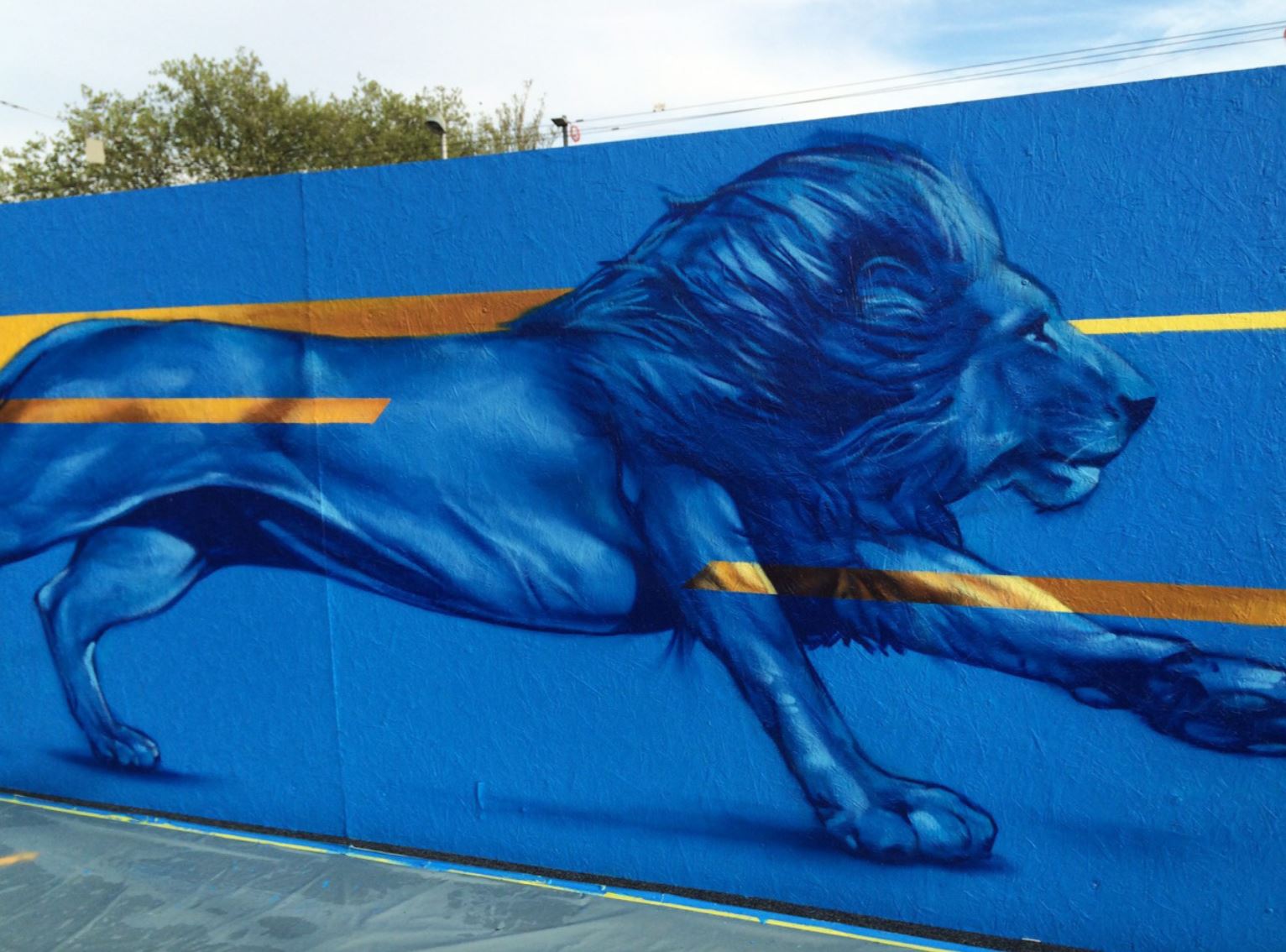 WHAT IS THE NAME OF THE PROJECT FOR VELOCITY ENGE?
"Real Sign of the Time"
WHAT IS THE INSPIRATION FOR THIS PROJECT?
It is, in the broadest sense, about bees, the pollination process, and how this is connected with our life. Redl wants put small animals on the big stage to emphasize their beauty and give them importance. At Velocity we put a large emphasis on building community, and working together towards a common goal of bettering ourselves.
Each individual has their own challenges to overcome, but as a group we can find the motivation to push us through our workouts and achieve more. It's a time to forget about our daily routine and stresses, focusing instead on burning calories and enjoying ourselves. It's not just about building physical strength, but also improving our wellbeing and inner peace.