Everything You Need To Know About Our Reopening
by Lona – Thursday, 7. May 2020
Hey Team,
Earlier this week we published a survey to get a better sense of our community's concerns and to see what we could do to help make you feel as safe and comfortable as possible when we reopen our studios.

We are so grateful for your responses and overwhelmed by the positivity and trust that you have in us! In this blog post, we will be addressing the most common concerns you shared and tell you a bit about how we plan to handle them. While we are of course following all government safety regulations (click for link), we have also implemented several additional measures based on your feedback.

Here is what our community said they were most concerned about:
Maintaining Social Distance
The number one way that the BAG recommends slowing down the spread of the virus is through maintaining adequate social distance. It's no surprise that this was one of the top priorities for our community.

We want to assure you that we are taking this very seriously and that we have several measures in place to make sure that keeping 2 meters of distance is possible at all times.
The front desk staff will place your shoes on the front desk bar using gloves – you can then pick them up "self-service" style after disinfecting your own hands. This ensures that there is always 2 meters of distance at check-in. Towels will already be placed on the desk. If you would like to bring your own towel, that is also more than welcome!

There will be signs with the BAG recommendations as well as our own Velocity studio rules on display to remind people to pay attention to all social distancing best practices.

There will be signage on the floor to indicate the recommended distance people should stand away from each other.

Coaches will help guide people to enter and exit the dark room in single file to ensure that there is no traffic at the door.



We have spread stationary bikes and xformer machines out in every room to ensure that there is a minimum of 2 meters distance between people during their workouts.
In addition to having enough space between machines, the BAG regulations are limiting group classes to a maximum of four people (plus the coach).
There will be no high-fives or other forms of contact after class.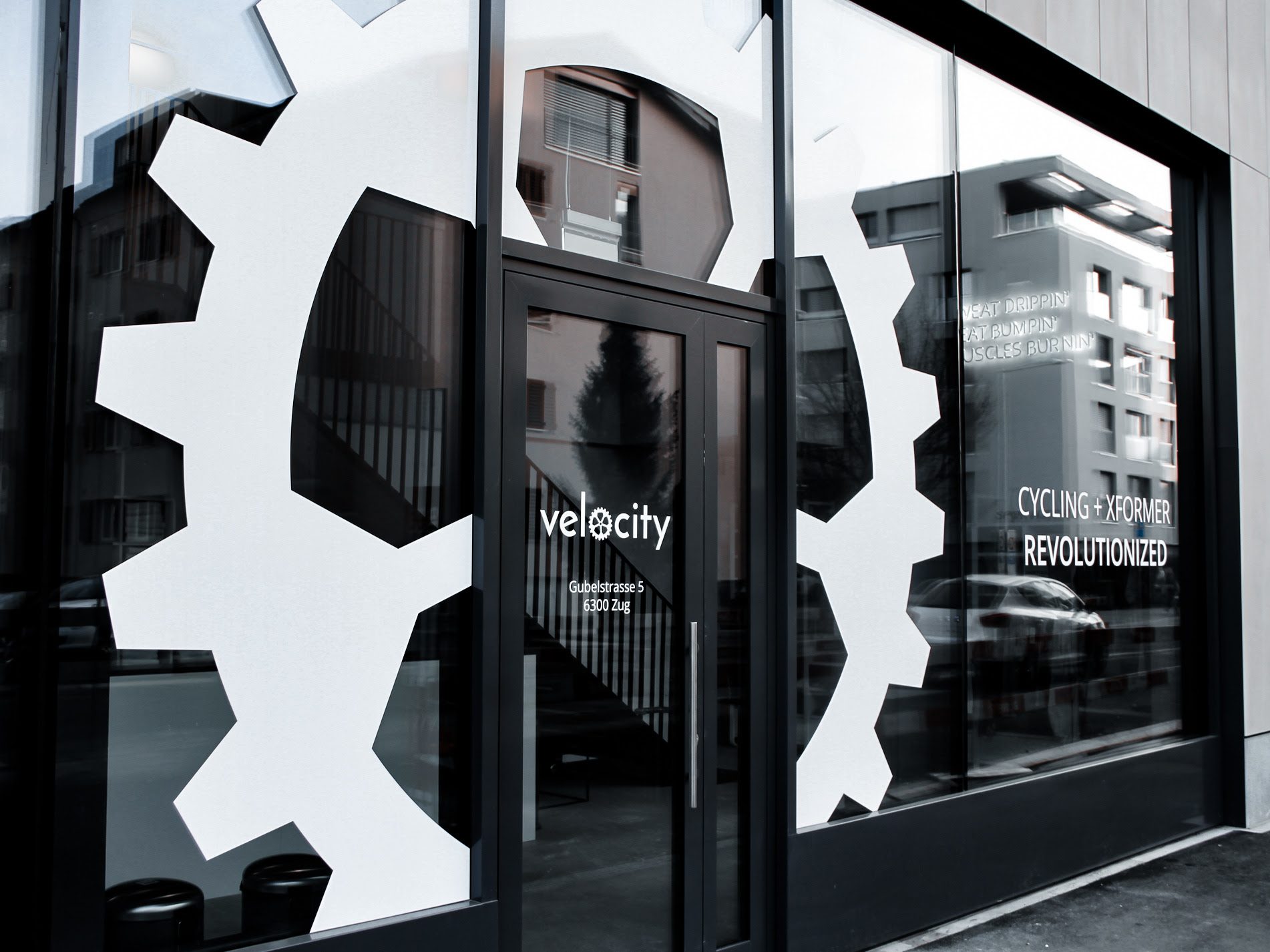 Disinfection

Cleanliness in our studios has always been very important to us. For our reopening, we have adjusted our class schedule in order to leave even more time between classes for cleaning and disinfecting all workout equipment and contact points.
The front desk staff will ask you to disinfect your hands when entering the studio

Stationary bikes and xformer machines will be cleaned thoroughly with disinfectant cleaner after every single class – this includes the handle bars, straps, seats, monitors and more. The floor around each machine will also be mopped with disinfectant cleaner.
Used hand weights should be left at your training station (bike or Xformer) so that they can also be taken out and properly cleaned after each class.
Cycling shoes are cleaned after every class with disinfectant spray and not used again for at least 6 hours.
Our coaches and front desk staff will open the doors to the dark rooms for you to limit the number of people touching the door handles in these common spaces.
We recommend that you avoid touching your face while in the studio, and ask that you use your elbow if you need to sneeze or cough at any time.
Cleanliness of changing rooms & showers

In the survey, people expressed some concern about the enforcement of social distancing and disinfection in the shower and locker room area. According to the BAG "schutzkonzept", the use of showers is allowed, but it encouraged to shower at home.
Of course, toilets will still be open for use. Door knobs, taps, and handles will be disinfected hourly to ensure your safety. We still recommend that you use your elbow if possible when opening the bathroom stall and ask that you wash your hands after using the bathroom.

Ventilation

In addition to distance and cleanliness, our community mentioned that ventilation in the studio was a concern.

As per your suggestions, the doors to the studios will remain open (weather permitting) in order to ensure that fresh air can flow through the studio and to further reduce the need for touching door handles.
We have over 500 cubic meters of air per person per hour circulated through the studios rooms!
Doors to studio rooms will be left open during cleaning for even extra air.
Loitering

We are encouraging our community to not spend too much unnecessary time in the studio, and ideally come changed and ready for their workout and to leave shortly afterwards.
Roots @ Enge will remain closed for the time being, but take-away salads, chia puddings, and more will be available for take away.
At risk or sick persons coming to the studio

We are giving our community our full understanding at this time. In order to eliminate any financial pressure around using credits before they expire, we have frozen all credits until the government announces further relaxations of the restrictions.

This should allow anyone who is feeling ill, at risk, or living with an at risk person to stay at home without anything to worry about. We strongly encourage ederly and at-risk to stay at home.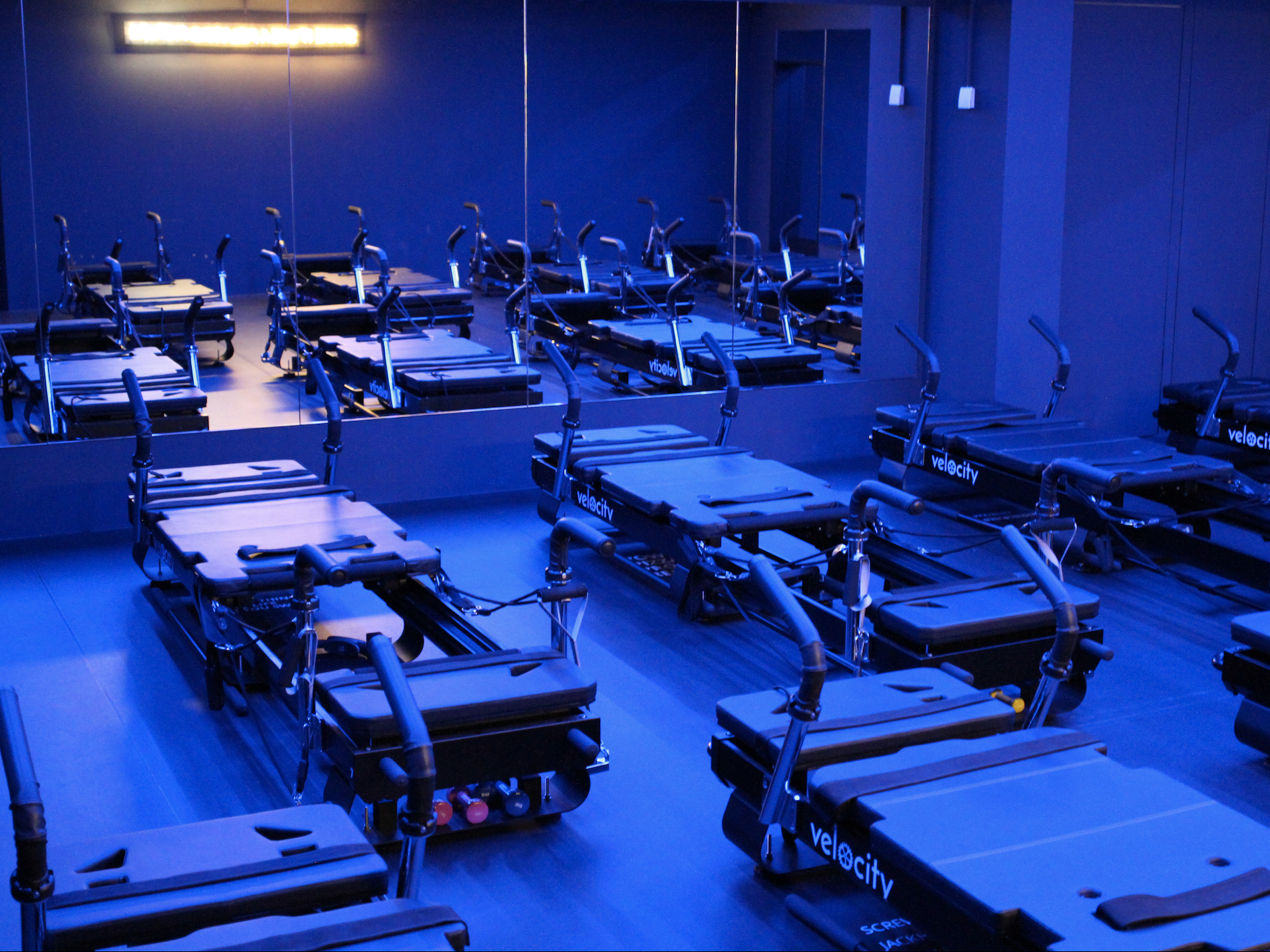 The Vibe 
Lastly, some of our community members expressed concern that the vibe of our classes won't be the same with so few people and all of these measurements in place.
Unfortunately, these circumstances do mean that some aspects of the Velocity experience will be different – on the other hand, our coaches have never been more excited, motivated, and grateful to teach a class as they are right now.

Distance makes the heart grow fonder – we are certain that even with a fraction of the people, the energy and love in the room will be just as powerful after being away for so long.
Let's all keep in mind that this is a temporary situation – we cannot wait to be fully back to normal, but until then, we promise to make the best of it and to continue giving 110% for you – our community!
Thank you so much for your responses, the valuable suggestions, and all of your inspiring messages. See you on Monday!
– Your Velocity Team
P.S. If you missed the chance but would still like to fill out our survey, please find the link here.