Ukrainian Aid Initiative

By Anna – 12 May 2022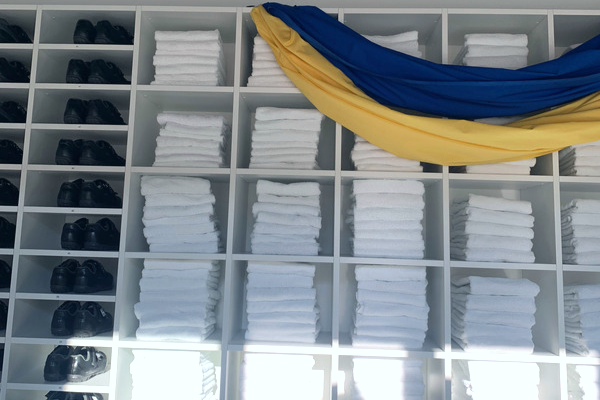 SHOPPING LUNCH @LA BREA ON 25. MAY
There is a lunch for Ukrainian refugees and their host families being organized at La Brea on 25. May, generously provided for free by the good people behind La Brea. Beforehand, all the refugees have pre-filled a form with items that they would need, so we can really tailor the donations and make sure they can really use them. During the lunch, all the collected items will be organized and displayed on shelves, hung on clothing racks and tagged so we can provide the refugees with a "shopping" experience. 
Velocity will be placing collection bins at all 3 studio locations for one week between Monday 16. May and Sunday 22. They will be sorted and tagged a couple of days prior to the lunch. 
If you can and would like to help collect the items, below you'll find a list of needed items. Please only donate items from this list! Household items, kitchen items, clothes, and shoes can be pre-used. If the items are used, please help us ensure they are of good quality and condition. Bathroom items and food items should be new. All of your donations will be greatly appreciated, both by us and the Ukrainian families. 
WHAT'S NEEDED:
Clothes (Used & New)
Tshirts (Sizes: XS, S, M, L)

Long Sleeve Shirts  (Sizes, S, M, L)

Tank Tops (Sizes: S, M)

Pants (Sizes: S, M, L)

Jeans: (Sizes: XS, S, M, L)

Skirts: (Sizes: S, M)

Dresses (Sizes: XS, S, M)

Bras (Sizes: S, M, L, XL)

Underwear (Sizes: S, M, L)

Socks (Sizes: XS, S, M, L)

Sweatshirt (Sizes: S, M, L)

Sweater (Sizes: S, M, L, XL)

Jackets (Sizes: S, M, L)
Shoes (Used & New)
Flip-flops (Sizes: 37, 38, 39, 40, 42)

Sandals (Sizes: 37, 38, 39, 40, 41, 42)

Closed-toe flat shoes (Sizes: 37, 38, 42)

Sneakers (Sizes: 37, 38, 39, 42)

High heels (Size: 39)

Boys Slippers (Size 35)
Boys Crocs (Size 26)
Girls slippers (Size 32)
Kitchen items (Used & New)
Napkins 

Cooking Utensils 

Large Cutting Knives 

Pans 

Pots 

Baking Trays 

Ice Trays 

Cutting Boards 

Cheese grater

Vegetable Peelers

Teapot 
Bathroom items (New)
Shampoo

Conditioner

Body Wash 

Razors 

Face Wash 

Face Lotion

Body Lotion

Hand Wash 

Tampons

Sanitary Pads 

Toilet Paper 

Baby Diapers

Baby Diaper Cream

Deodorant

Toothpaste

Tooth Brushes

Dental Floss

Hair Spray 

Tissues 

Pain Reliever 

Makeup: Concealer / Foundation (light/pale)

Band-aids

Wet Wipes

Cotton Buds
Food items (New)
Canned Fruits 

Canned Vegetables

Canned Beans

Canned Tuna 

Pasta 

Pasta Sauce

Rice 

Potato Chips

Nuts

Bouillon cubes 

Juice 

Tea 

Honey

Mayonnaise 

Ketchup 

Cereal, Granola & Porridge

Chocolate 

Crackers 

Peanut Butter 

Jelly 

Spices 

Salt 

Pepper 

Olive Oil 

Vinegar
Household items (Used & New)
Sleeping Pillows

Mop

Board Games 

Umbrellas 

Hand Bags

Hats (Baseball hats for women)

Sunglasses 

Dish Soap

Floor Cleaner

Bathroom Cleaner

Window & Mirror Cleaner

Laundry Detergent

Scissors 

An iron

Wall clock

Extension cord with 4 sockets

Sporting equipment (hand weights, minibands, yoga mats, etc.)

Soap Bubble Toys for kids

Clay to play with for kids
Thank you for contributing to this worthy cause. Velocity plans to continue working together with this group for the months to come, so in case you don't have the chance to contribute this time, there will likely be other opportunities in the future. 
Velocity would especially like to thank Kate and Dasha from Ukraine for helping to organize this group, all their efforts, and for being such a pleasure to work with.
If you have any questions about this initiative, feel free to reach out to us.