Zurich Outdoor Bars & Lounges
by Mal – Wednesday, 25. July 2018
It's Hot outside. Damn hot. So damn hot it's difficult to escape, unless you can spend most of the day submerged in the lake or the Letten (or in a cold, dark room at Velocity). Luckily, Zürich's numerous outdoor bars are amazing places to cool off, chill out and have a drink in the evening. Nothing beats a Zurich Summer, and to have a drink under the open sky during these warm months.
So here are our top 14 Zurich outdoor bars. Try them one by one and you will be ready to start the list over again. And lucky for you, the outdoor season can last until October with temperatures that feel perfect with a cozy jacket.
1. Rimini Bar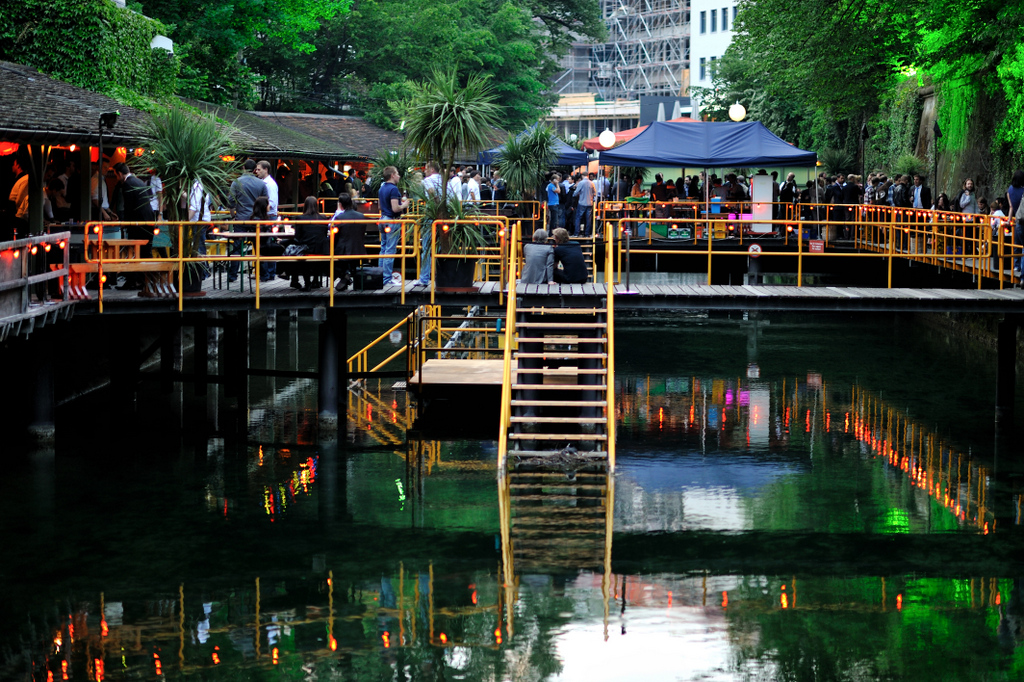 In the heart of the city, this trendy spot is a Männerbad by day but welcomes all genders at night. The illuminated trees of the neighboring Old Botanical Garden make it look like a little oasis right in the center of the city. Hidden behind the former Zurich stock exchange, it's a meeting point for business men and women and the city center's hip crowd, so you'll fit in here, whether in business clothes or in shorts and flip-flops. You can have a swim there, enjoy one of the two Arabic style lounges, order a pizza and sip a Mexican or Swiss beer. They play music in the evenings, but Rimini Bar unfortunately usually closes at midnight.
2. Primitivo / Oberer Letten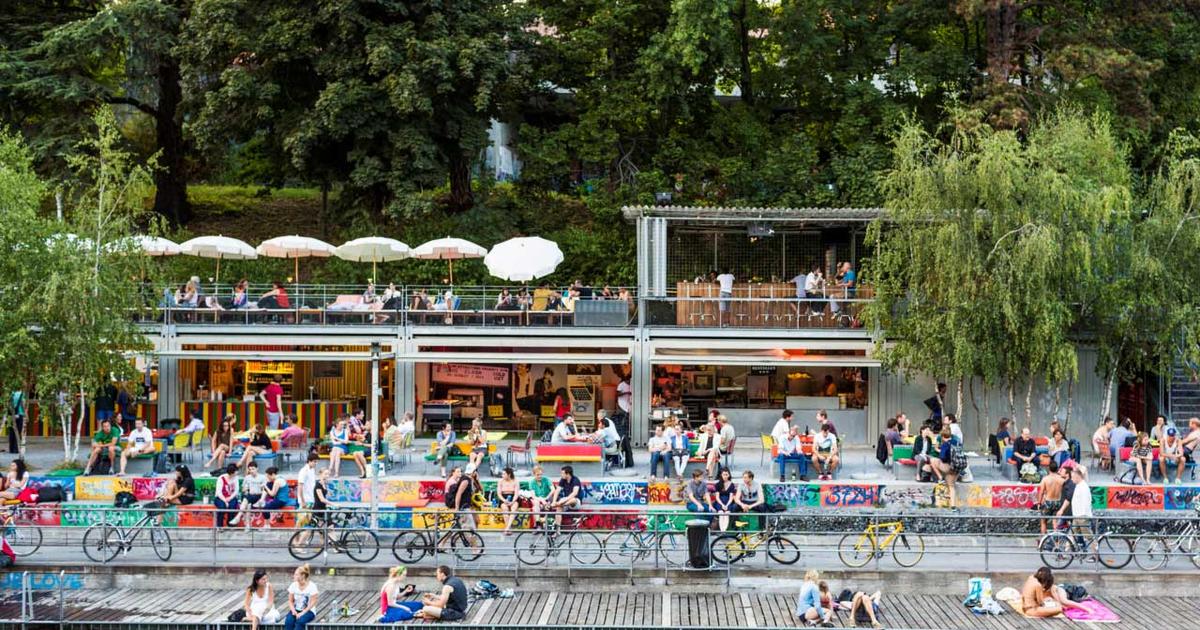 By far the best place to combine swimming and cocktail sipping. Primitivo is the summer institution at the Letten: urbanistas flock here on warm summer nights to take a swim in the river and then drink at the bar. The entrance is free, as well as deck chairs, showers and changing rooms. Shipping containers house the bar, as well as the kitchen which deals out tasty burgers, grilled sausages and fries and salads. Not only a good choice in the evening, but perfect for relaxing and reading in the afternoon as well. We dare you to jump from the Kornhausbrücke.
3. Widder Bar Sommer Lounge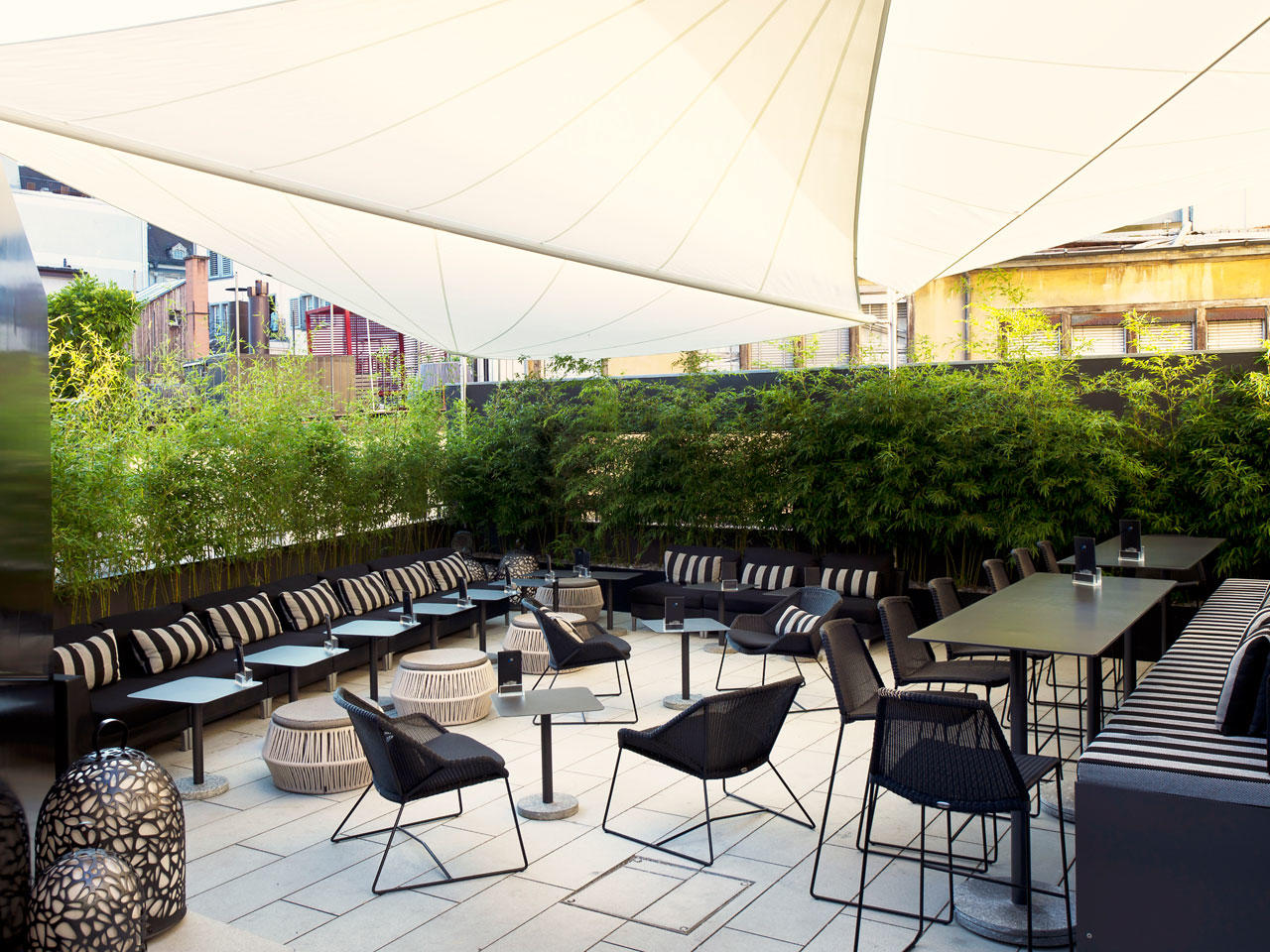 Located on Rennweg, this summer chic garden delights with appetizing dishes and beverages. In the courtyard of the Widder Hotel, you can take a relaxing break and enjoy a coffee or cool beverage – or linger over lunch or an evening meal. The summer dishes – whether salads, pasta, fish or specialties from the grill – are perfectly suited to the Mediterranean ambiance of this open-air locale. And once you have sat down in the lounge, you will be reluctant to get up again – here you are far removed from the hustle and bustle of the outside streets.
4. Frau Gerolds Garten
Of course, we couldn't miss Velocity's beloved neighbor on this list. Cargo containers, designers' shops, barbecue food, a bar, a restaurant and live music: simply an un-missable place in the summer. This hang-out spot is located right next to the flagship Freitag shop and is just a few steps from Velocity.
5. Seebad Enge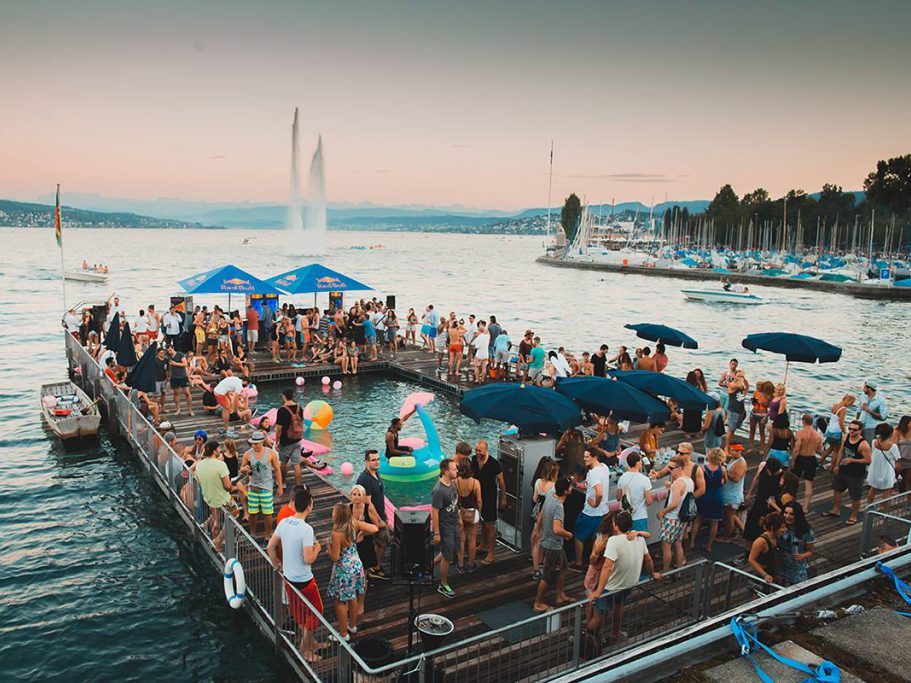 A trendy (and often packed) floating beach and bar, Badi Enge has its very own lake pool. And thanks to their plastic cups, drinking and swimming can be combined. If you have a Zurich Swimming Pool Pass, this can be used here, otherwise be prepared to pay 5 francs during busy times.
6. Fischstube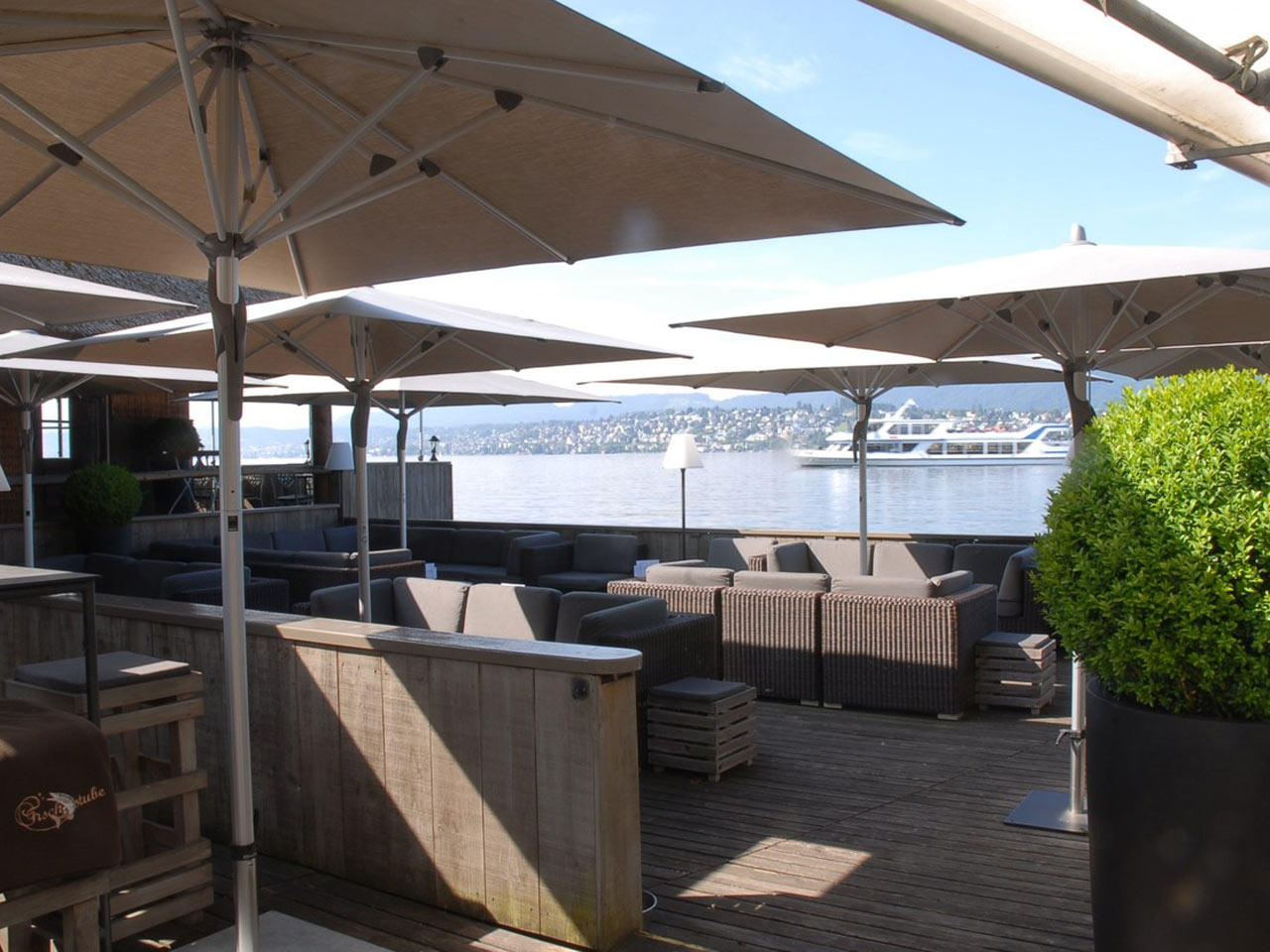 This summer restaurant, which lies directly on Lake Zurich, welcomes guests with its mouthwatering fish specialties. The restaurant Fischstube is situated at the shore of Lake of Zurich and dates back to the late 1930s. The restaurant includes a terrace with views on the alps and the town center of Zurich, a beer garden, a lounge bar, and the event venue called the Fishermen's Cottage. The cuisine offers fresh, seasonal products from the market and is specialized in fish dishes, hence the name.
7. Fischers Fritz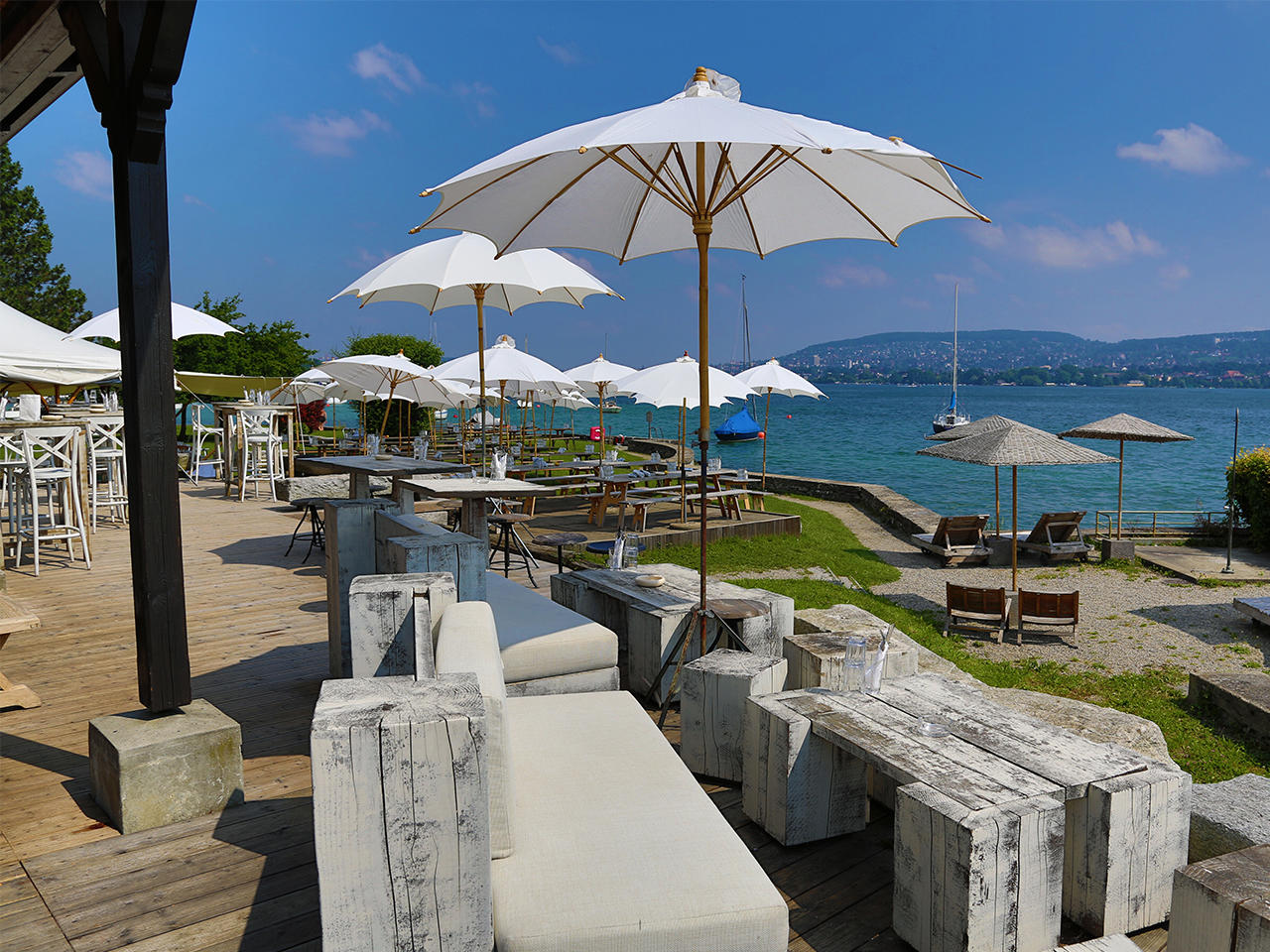 Fischer's Fritz restaurant is part of the campsite of the same name – the only Camping in the City of Zurich (although it's rather close to Kilchberg). This grassing lawn leads right up to the lake, and there's a diverse amount of seating to choose from. Enjoy the lake view with a glass of wine from their options in the Zurich Region.
8. Kleine Freiheit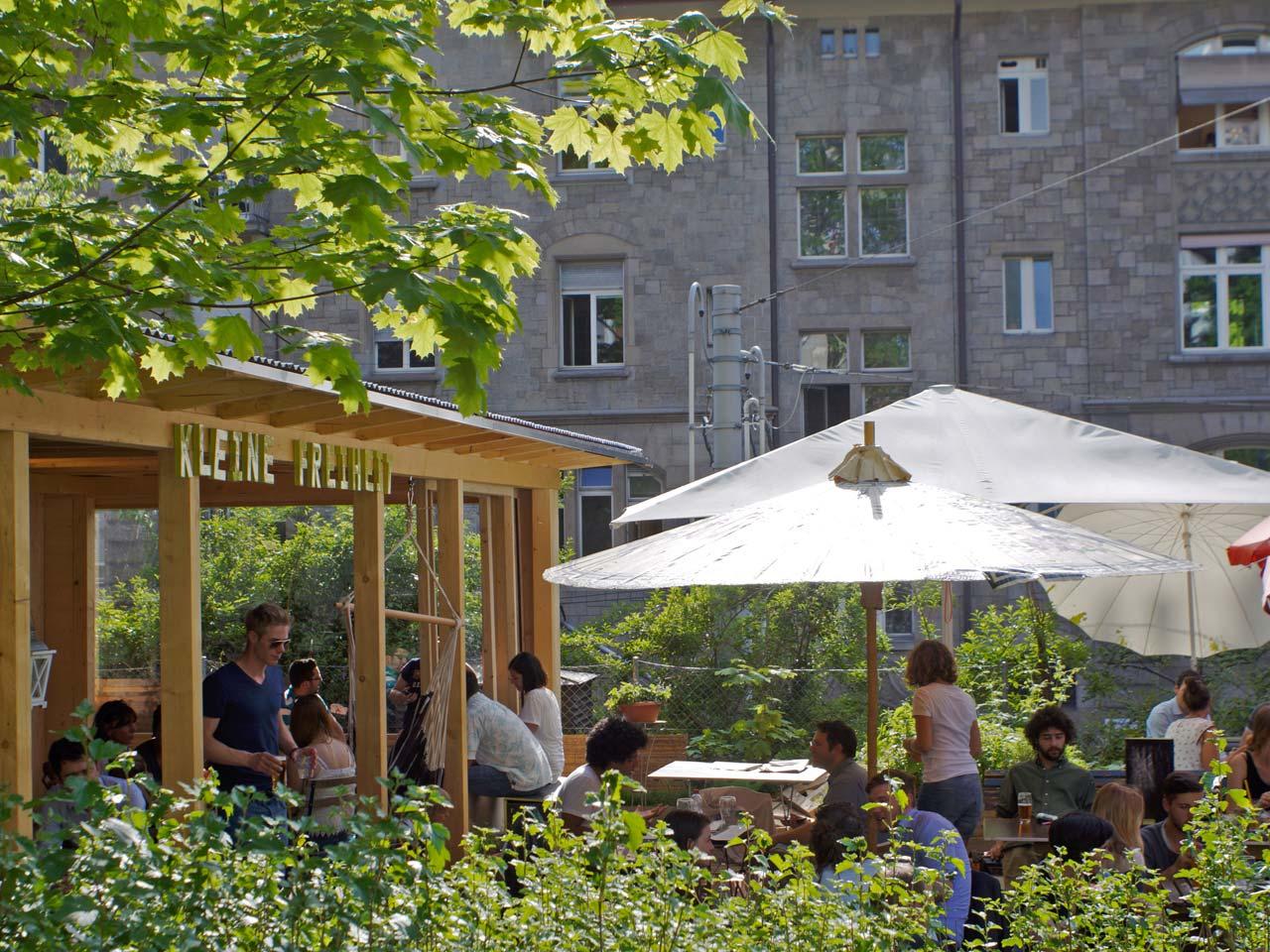 The Kleine Freiheit is a charming garden location in Zurich, in a small corner park between Weinbergstrasse and Sonneggstrasse. It has an urban open-air vibe. Here, falafel, hummus and mezze platters are served from a converted shipping container and consumed by hungry guests lounging in deckchair and sofas surrounded by planted pots, trees and umbrellas.
9. Seerose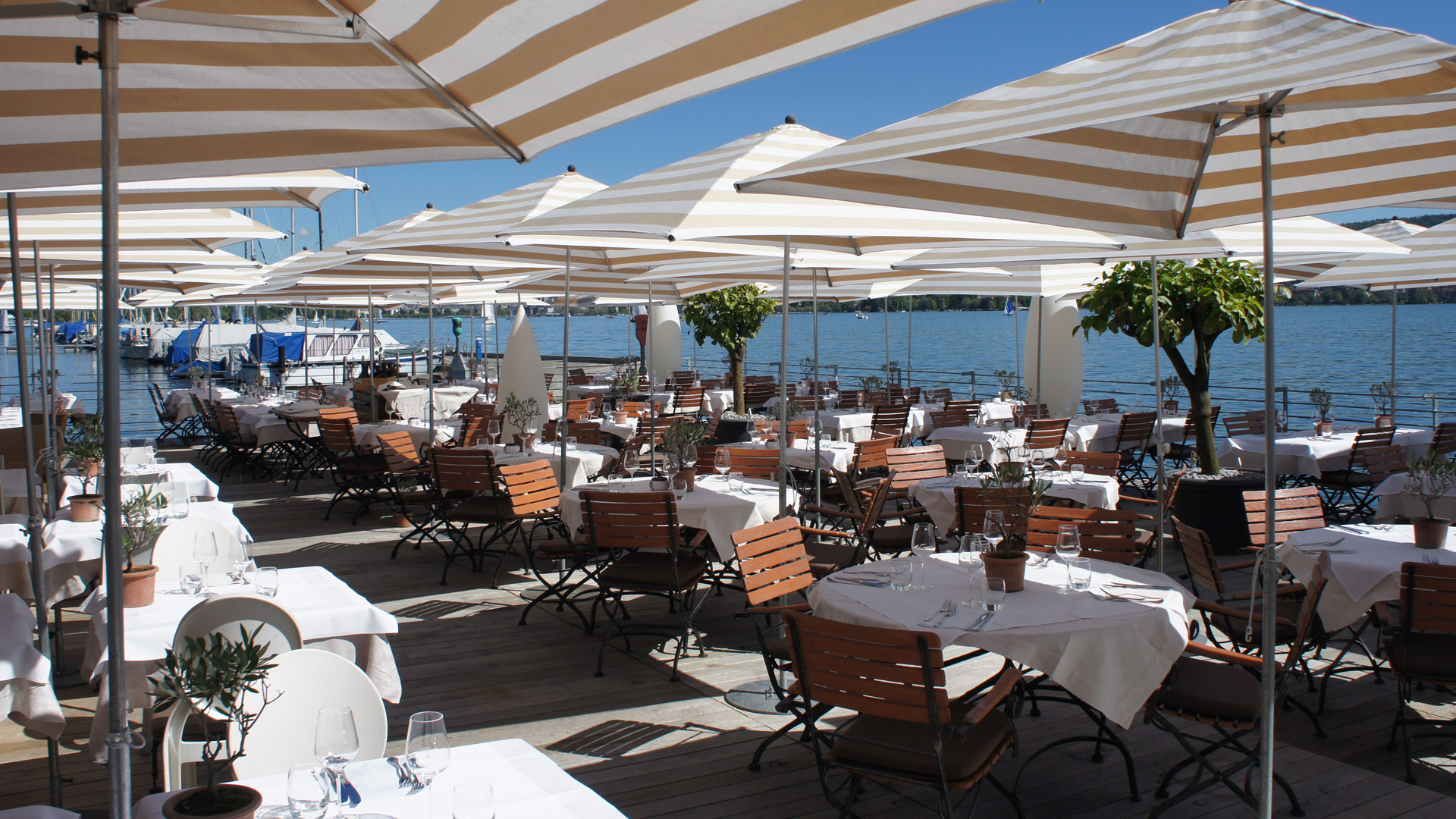 If you want to feel like floating on a yacht in the harbor of San Tropez, Seerose is the place to be. The lounge music makes the vibe, and the people watching is almost as good as the actual view. Zürich's only floating restaurant is also a great place for a romantic dinner.
10. Bauschänzli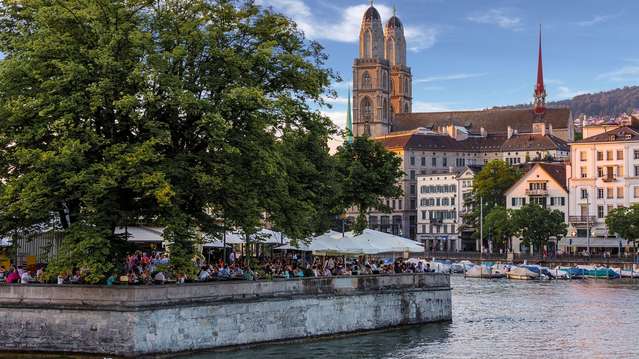 If you are looking for a simple, no-frills Biergarten, Bauschänzli near Bürkliplatz might just be your place. Beer, music, and more beer. What more do you really need?
11. Chez Hugo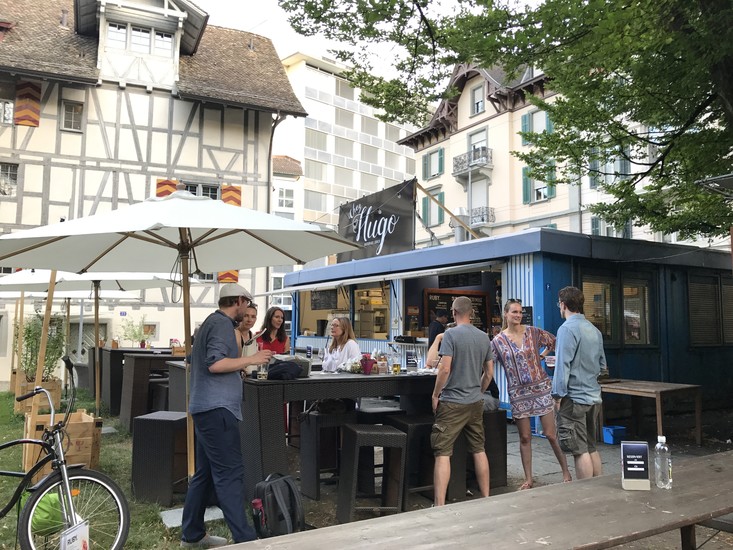 Hugo transforms this small square right in the center of the city (just next to Paradaplatz) into a tranquil summer retreat. Grab a drink or some food from the grill (burgers, sausages and some veggie options) or choose some salads from the buffet and take a seat at one of the long wooden tables. Due to its location, Hugo is frequented by business people and is actually busier during lunch than in the evening. But even if you're not wearing a suit or a power dress, it's a great spot to spend a warm summer evening.
12. Binz und Kunz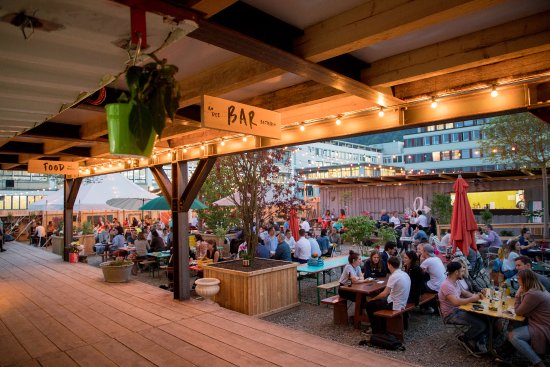 This bar, which brings some Mediterranean summer flair to the Binz district, started serving food and drink in 2017. And while this neighborhood is off the beaten path, Binz und Kunz is a good alternative that's worth the extra travel on hot days when central places are busier. The set-up with freight containers and strings of colored lights is similar to Frau Gerold's, but the Lebanese mezze platter is deliciously unique. Enjoy a cold beer on the terrace on top of the containers. Swiss staples like Bratwurst and Cervelat sausages can also be enjoyed by traditionalists.
13. Kaufleuten Terrasse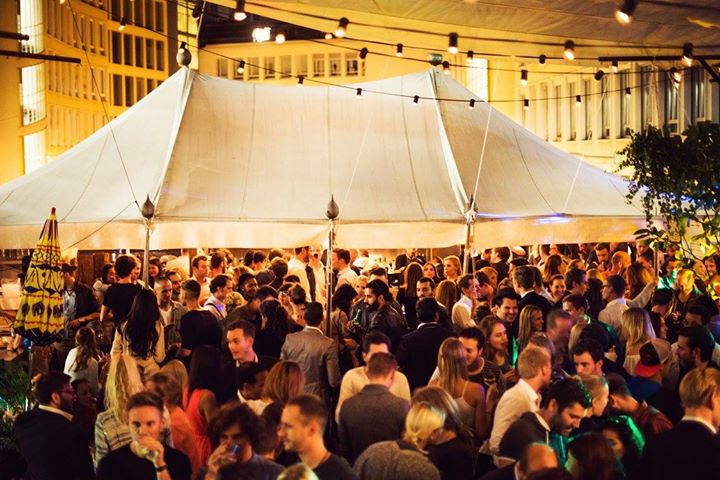 Decorated with green plants and white umbrellas in the courtyard of Kaufleuten (enter from Talacker) is where the bankers of the city center meet in summer for after-work drinks. While there are plenty of white shirts and business attire, you won't be shunned if you're dressed a little more casual. A DJ sets a relaxed tone for the business folk who can be seen shedding their workday ties and jackets with a cold cocktail, prosecco or the like.
14. Seerestaurant Quai 61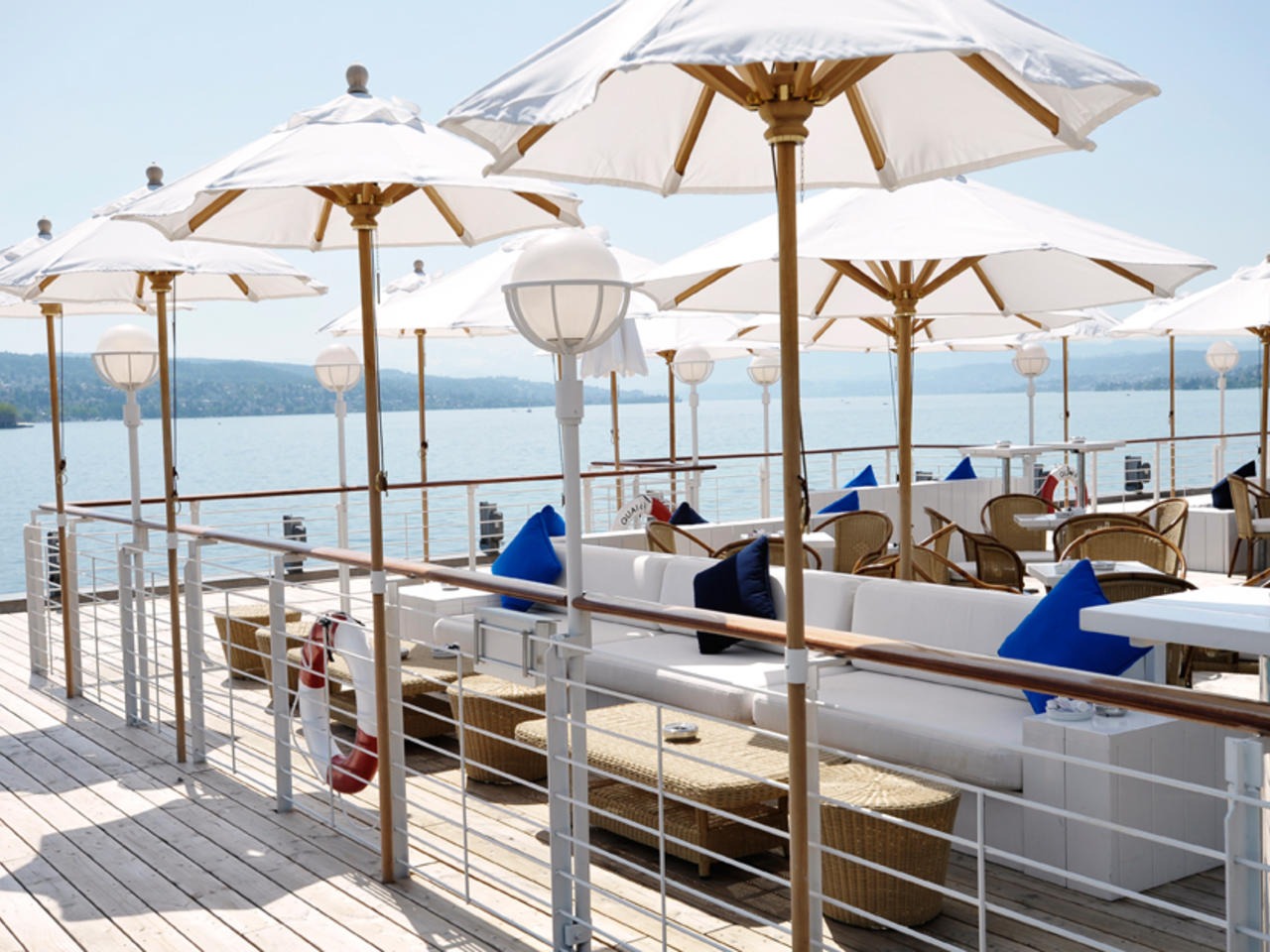 Previously known as Acqua, Quai 61 has an upper deck where you will have an amazing view on the lake and the mountains on a clear day. On the ground floor, there is a nice restaurant which makes you feel like being on a ship. This restaurant is directly on the lake and the menu features light, market-fresh dishes with an Italian flair.