All about HEYLIFE Juices
by Mal – Sunday, 1. April 2018
You've seen it at our studio, now it's time to learn more about the vision, mission and passion behind HEYLIFE Juices. Here is some information from the wonderful team at HEYLIFE …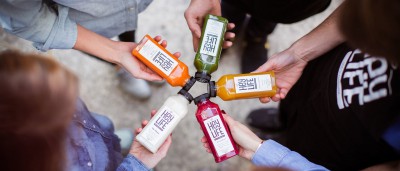 Team and Vision
HEYLIFE was founded with the goal of making healthy nutrition fast and easy. In the hectic pace of our everyday life, lack of time should not be an obstacle to supplying the body with essential, natural raw materials. We are convinced of the beneficial effect that a healthy diet has on our quality of life! It contributes significantly to our mental and physical well-being by not only improving overall fitness but also strengthening the immune system. This is how we discovered cold pressed juices: concentrated juice power from raw, fresh vegetables as well as from fruits.
We have continuously expanded our portfolio with new beverages. You can now buy our Cold Pressed Juices in restaurants, our Nut Drinks are available from major retailers and the refreshing Aguas Frescas are the light and healthy alternative to sweet soft drinks. The latest successful addition to our family is HEYLIFE Coconut Water. We look forward to further expanding our HEYLIFE family soon!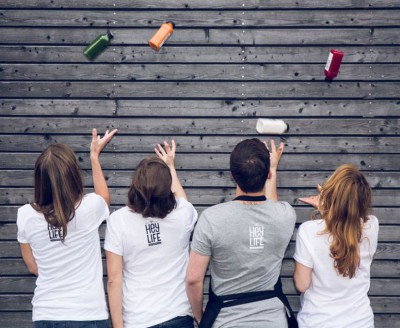 Mission
HEYLIFE is all about making healthy nutrition easy and delicious. A busy lifestyle should not prevent you from providing your body with the natural food it needs! We make nutritious, organic beverages that contain ingredients as close to their natural state as possible. All our products are free from refined sugar, food additives and never made from concentrate. We are passionate about what we do because we are convinced that a healthy body is the groundwork of a happy mind! You can always find us searching to discover new natural produce and eager to develop innovative technologies.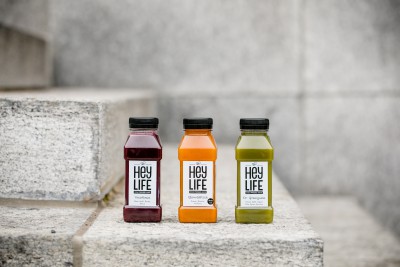 This is HEYLIFE
All our products are made from the best plant-based, untreated raw materials. We do not use any stabilizers, artificial flavours, preservatives, refined sugars or any other additives (including "natural" additives). "Gentle" production is important to us and this is why we use a hydraulic press method. This innovative process extracts valuable plant nutrients without heat pasteurisation. In this way we are able to obtain the maximum amount of juice and nutrients. Our products contain many raw materials with a high content of beneficial vitamins, minerals and secondary plant substances: vegetables, fruits, various berries, roots, nuts and herbs. These are essential for our metabolism, health and well-being.
Quality and Production
Cold pressing
Not all juices are alike. In conventional juice production, a centrifugal process is generally used, in which the liquid is literally "ejected" from vegetables and fruit. This generates heat, which destroys valuable nutrients such as vitamins. Moreover, the centrifugal systems are not suitable for processing green, leafy vegetables – but this is exactly where most vitamins, minerals and secondary plant substances are to be found. It was therefore clear to us that we wanted to use traditional hydraulic cold pressing for our juices. In this process, a consistent level of pressure is built up, and we can gently extract the juice from leaves, herbs, fruits and vegetables. And all this without exposure to any heat! This is neither the easiest nor the fastest way to extract juice, but it is the only way to make sure the nutrients of the raw materials actually end up in the juice bottle.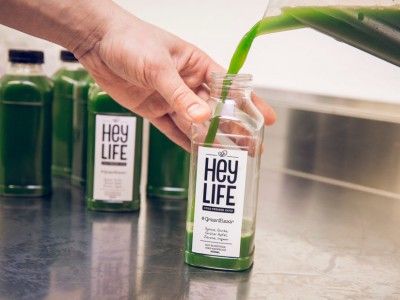 High Pressure Processing
It all began with our raw vegetable and fruit juices: the HEYLIFE #RAW Juices. They soon became so popular that we were faced with growing demand for them to be sold in stores, too. We wanted to make this possible! So we looked for a way to prolong the shelf life of our beverages without losing their valuable nutrients. Thus, pasteurisation was out of the question as with this process, most nutrients are destroyed through heat. But the efforts paid off when we came across the innovative High Pressure Processing (HPP) method. The beverage bottles filled with juice are placed in a water bath and exposed to high pressure, which renders microorganisms harmless – but preserves the fresh taste and the nutrients! Thanks to the resulting longer shelf life, we can also make our cold pressed, fresh juices available to shops and restaurants. Without any heat or additives. We use this gentle pressure processing method for all our drinks – except of course the #RAW Juices.
Producing Nut Drinks
Our Nut Drinks are produced with love in our production kitchen. We mix nuts such as almonds or hazelnuts with water, dates and Himalayan salt to a homogeneous drink. Careful stirring ensures the creamy consistency and the fine taste of this plant-based milk alternative. After that we add the characteristic spices to the Nut Drinks, which make them so irresistible.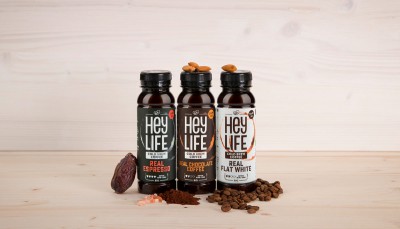 Local & Organic
It is very important to us to only use the very best that nature has to offer. Wherever possible, we work with regional ingredients. We cultivate strong partnerships with our suppliers and therefore know exactly which field our cucumbers come from or where our carrots grow. For example, we source our original spelt grass fresh from the Klausböhler organic farm in Seuzach, where it is harvested by hand. The coffee beans for our Cold Brew Coffee are also processed by our trusted roasting plant, Henauer in Zurich.
Where to Buy
Buy it online (https://www.heylife.ch/en/shop/) or stop by the studio today!