Warm Up for a Cold Christmas
by Cameron – Friday, 13. December 2019
Christmas has evolved immensely over the long history of the secular holiday. Beyond its meaning to the Christian religion, it has become a time to gather with family and friends, exchange gifts as a symbol of kindness and love, and dedicate more time and effort to charity. A sense of shared unity and peace, something that that may seem difficult to actualize throughout the calendar, seems a little easier to come by this time of year. We hope to give you some ideas on how to spend the time with family and friends this winter and take advantage of all the great activities the area has to offer.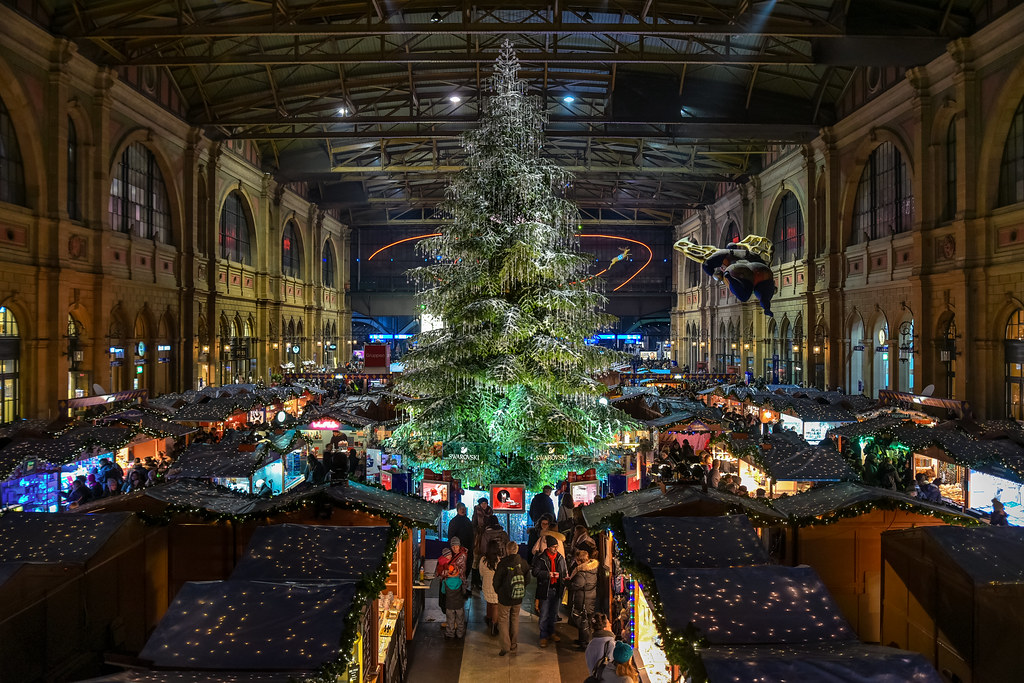 Christmas Markets
Christkindlmarkt, literally Christ Child market but referring to the "Spirit of Christmas", are holiday street markets that occur during the four weeks of Advent. The first of its kind date back to the Late Middle Ages in Germany and Austria, with some special Winter markets appearing as early as the end of the 13th century. The strongest claim for the first real Christmas market belongs to Dresden, where craftspeople, seamstresses, and food vendors came together for an authentic Advent celebration in 1434. Toys, woodcarvings, and foods like roasted chestnuts and baked goods were sold to citizens who gifted them to others during the season.
Today Dresden still remains one of the largest and most impressive Christmas markets in the world. The tradition has grown all over Europe and the world, with some cities like Berlin boasting as many as 60. In Zurich and Zug you will find these markets with hundreds of stalls draped in bright lights and garland. Festive music fills the square scattered with wood fires to keep you warm through the night. You can find a variety of handmade ornaments, clothing, and woodcarvings among thousands of other items. Along with this, cuisines from all over the world make an alluring aroma that fills the cold winter air. You can always find the Swiss staples like raclette and kartoffeln, wurst, and glühwein as well. The markets are open everyday from 11:00 – 22:00 and on Sunday until 20:00 from November 21 to December 23.
Ice Skating
Not only is ice skating available at the Bellevue Christmas Market in Zürich, but you can take advantage of daily skating throughout the winter at the Dolder Sports Ice Rink. This open air rink often has a tree draped in lights at the center and plays music as you glide across the 6000 sq. meter surface. Open every day from 9:00 to 22:30 and Sunday from 9:00 – 17:45, skaters also have the ability to participate in lessons for hockey or figure skating. The rink is located at Adlisbergerstrasse 36, 8044 Zürich and is accessible with the Dolderbahn.
Sledding 
Sledding or Sledging, is a popular activity in Switzerland with long snowy downhill trails dedicated to it. On Zugerberg, one can  rent sleds and enjoy the 2.5 km trail which is groomed often, though there are many hills and mountains around Switzerland that offer groomed trails for sledding. A popular type of sled for this activity is the Flexible Flyer, a steerable wooden sled with steel runners, which is easy to manuever down winding slopes. Sleds can be found for rental at Talstation Schönegg. 
Cross-Country Skiing
Just outside the city boundaries, high above Lake Walen, or with a view of the magnificent Swiss Alps one can find a variety of cross-country skiing trails. All around Zurich and Lake Zurich, avid winter sports fans can rent skis or take their own to the many kilometers of both free and paid trails. Some regions even provide night trails that allow you to guide through the forest late into the darkness.
We hope you take advantage of these wonderful activities. Christmas and Advent give us the chance to reconnect with old friends and catch up with family. In this busy life, it is important to take a step back and appreciate the loved ones we have. We sometimes need the reminder what this hectic journey about, and there is no better way than to participate in charity and giving spirit that this season has come to represent. We wish you the merriest holidays this month and look forward to celebrating with you
https://www.german-way.com/history-and-culture/holidays-and-celebrations/christmas/christmas-markets-in-germany/
https://www.doldersports.com/en/winter-front-page-en/ice-skating-rink/
https://www.zuerich.com/en/visit/the-seasons-in-zurich/winter/cross-country-skiing