All you need to know about the new Stages Studio bikes
By Anna – 17 December 2022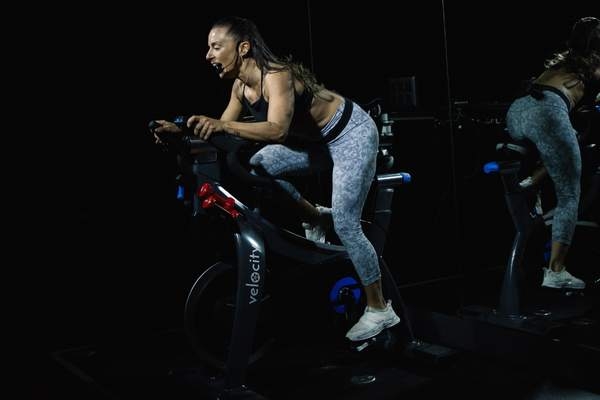 The bikes are HERE! Our new Stages Studio bikes have arrived, and they are even better than we imagined. When it was time to upgrade, we knew we wanted to deliver the best possible quality and make sure your riding experience will be the smoothest it's ever been. So in this blog post, you'll find out exactly why our new bikes are so great. 
Accuracy
The new Stages Studio bikes come equipped with the Stages Power meter. It's the most accurate, reliable, and consistent direct power meter on the market, so we can make sure that your performance across all our studios is consistent. And not only that, the Stages Power meter is the closest you'll get to actual outdoor cycling stats. Book your bike now and test it yourself. 
Improved sprinting position
With a different handlebar setup, we are now gaining a fantastic sprinting position, that's a lot closer to your outdoor riding experience. The new hand position will allow you to really push it during those fast tracks, and besides the improved comfort, it will also make you feel like a badass.
Ideal for interval training
With a unique three-stage lever called a Power Shift next to your resistance knob, you'll be now able to really quickly and efficiently shift between sprint and climb mode, allowing for a smoother experience when pushing through those tough intervals. Simply put, you'll be getting instant control when adding or dropping resistance, without sacrificing your prior micro-adjustments.
Improved comfort
With multiple adjustment possibilities to both the handlebars and the saddle, you're guaranteed to find the most comfortable position on the bike regardless of your height and proportions. The aluminum frame also provides extra sturdiness, to make sure you're feeling safe and secure. 
Easy and secure clip-ins
We've specifically ordered custom pedals to ensure it's as secure and easy to clip in as possible. Say bye to squeaking pedals! And of course, we're keeping our SPD cleats, so nothing changes here.
We can't wait for you to experience the absolute smoothest ride of your life, so check the schedule below and let's ride.