Spotlight: New Velobeat Coach
By Anna – 31 March 2022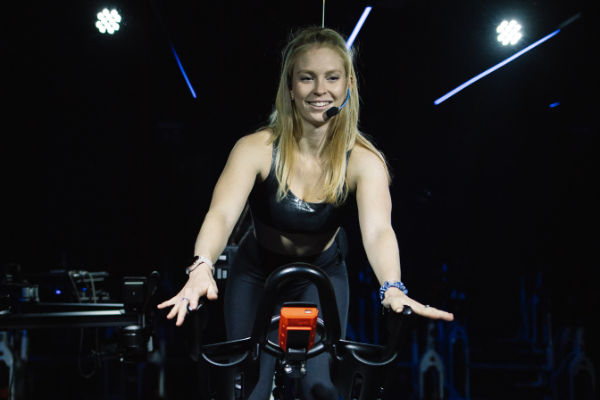 Give a round of applause to our new Velobeat coach – Cece. She just finished the Velobeat Academy so check out the Q&A below to learn more about her. Her first workout is a Free Community Ride on Monday the 4th of April at 18:15 in Enge. You can email hello@velocityenge.com to book it free of charge or check the schedule to see all the opportunities.
Tell us about yourself
I'm a happy person who's consistently trying to share positivity and break patterns. I'm always down for new adventures, and I'm not afraid to take on a challenge. My greatest weakness is definitely sweets, and I simply can't resist a proper Negroni with friends.
How did you discover Velocity?
I discovered Velocity while scrolling down my employer's benefits list. Curious as I am, I booked my ride the next day. And the rest is history!
Why Velocity?
Velocity got me hooked because of the mix between great coaches and music. I never tried a sport (and believe me, I have done a lot!) that gave me such a pre-party vibe as indoor cycling.
What was the most challenging part of the Velobeat Academy?
My biggest struggle was something, I wasn't even aware of: the coaches have to mostly ride on their left leg! So I had to switch my strong right to build up an even stronger left.
What's going to make your Velobeat unique?
Joining my workout is like getting a ticket to a great party you don't want to end. Try it and find it out for yourself!
What music will you play in your workouts?
You will find different genres in my workouts. But you can definitely expect powerful and energetic beats that give you an extra push. My playlist is usually electronic-based with a touch of Latin & Afrobeats, trap, and hip hop.
Fun fact about you?
There's an 85% chance that I will spill the drink in front of me. Most likely over everybody else but me.
Catch Cece every Monday at 18:15 in Enge.