Marta, Ramon & Patrice – Meet the new Veloburn Coaches

By Anna – 7 October 2022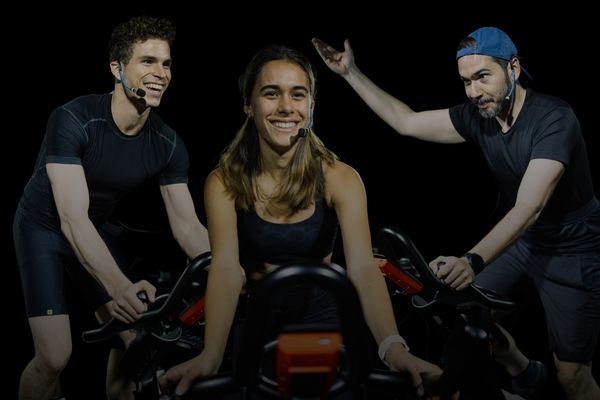 The Veloburn family is growing! We're excited to welcome 3 new Veloburn coaches to the team as of October. If you were looking to spice up your routine, now is the time. More coaches, more variety, more workouts. What more could you ask for? Let's not keep you waiting any longer, we're sure you're eager to find out more about these three. Dig into the Q&A and find out what kind of experience Marta, Ramon, and Patrice prepared for you.
MARTA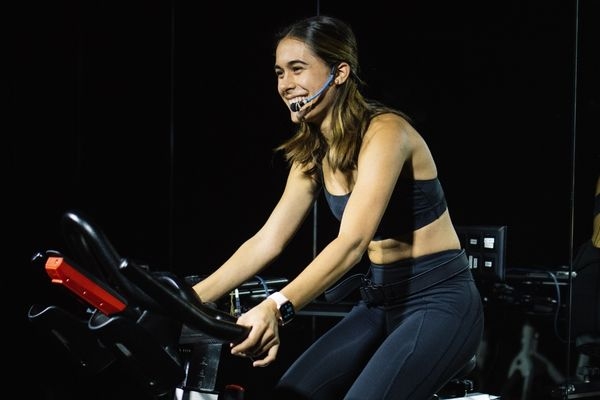 Tell us about yourself
I'm Marta and I'm Spanish, but I was born in the US. I grew up mostly in Spain, but I also lived in California and Zug, Switzerland. I just finished my Behavioral and Social Science degree and decided to move back to Switzerland. I have loved sports for as long as I can remember: have tried almost everything (soccer, field hockey, tennis, skiing, you name it). I love spending time with friends and family, and I often find myself reading books about self-improvement or cooking healthy meals.
How did you discover Velocity?
While I lived in the US, I attended similar classes, and I loved the concept of group workouts in such a fun environment. In 2019 I came to Switzerland and visited my family; obviously, I was curious to see if there was an indoor cycling studio. Lo and behold, there it was, Velocity Zug! In a blink of an eye, I had booked my intro workout. I was immediately hooked and the rest is history. The energy, the atmosphere, and the motivation were unmatchable.
Why Velocity?
Oh, the list is long! For me, it's the only place where you feel energetic and excited before the workout even starts. Then during the workout, you push beyond your limits (physically and mentally) and exhaust yourself, but somehow, you leave the studio with more energy and excitement than you had in the first place. All concepts at Velocity are more than just a workout; it's a well-rounded holistic experience you won't want to miss out on. During the 45-50 minutes workout, you get to push beyond your limits and achieve your goals while still having an incredible time. And well, finally, the community is incredible; I feel right at home here.
What was the most challenging part of the Veloburn Academy?
This was definitely out of my comfort zone. I had always imagined myself being a coach, but it definitely is a lot harder than it looks. It took a lot of courage from my side to just jump into the role. Getting on stage with the mic was definitely a little uncomfortable at first, but with time and practice, it became so much fun.
What's going to make your Veloburn workouts unique?
I believe my workout bridges the gap between where you stand today and realizing your full potential. I aim to meet riders where they are. From there, I give them the space to explore life beyond their comfort zone. And indeed, while challenging the riders, I want to ensure there is a fun and sweaty moments of triumph and grooves and good vibes. The smallest win is a huge accomplishment, and we will celebrate those together as a team. You'll leave my Veloburn feeling exhilarated, accomplished, and ready to live your best life.
What music will you play in your workouts?
Music has the power to be motivational and get everyone's vibes and energy high. I will curate playlists that take you on a journey that challenges you to push harder, live bigger, and love as much as you can. Whether it's pop, house, disco, or throwbacks, we will enjoy the lively 50-minute Veloburn. Take a deep breath and let's get lost in the music.
Fun fact about you?
About two years ago, after years of confusion about what "health" meant, I decided to enter a health coaching institute. As of January 2022, I became a holistic health coach. I love sharing with others what I have learned; my favorite concepts are "bio-individuality" and "primary food"/"circle of life." Feel free to approach me, I'm always happy to chat about all things health 🙂
Don't miss Marta's free community ride on Monday 17.10 at 12:10 in Zug.
RAMON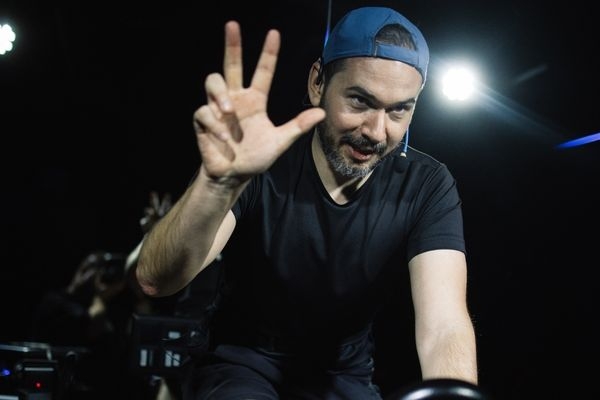 Tell us about yourself
I'm all about innovation in my personal and professional life and love to find new and exciting ways to improve stuff. As a native Swiss my sports endeavors are manifold and, admittedly, a bit cliché: hiking, skiing, Nordic skiing, and – of course – cycling. I grew up in the countryside but changed to the "little, big city" lifestyle of Zurich when I was 18 and decided to stay because I feel very much at home here.
How did you discover Velocity?
About three years ago and together with a friend I wanted to find a sporty, yet new and fun activity. This is when we stumbled upon Velocity and jokingly called it "Velodisco" at first. Shortly after we fell in love with it, became regulars and the rest is history.
Why Velocity?
It adapts to an active and fast-paced lifestyle by making it very convenient for clients – you don't have to prepare much, just show up. Once you're over that doorstep, you're being taken care of: From the front desk remembering your name and shoe size, to a top-notch choreographed session all the way to soft towels and exquisite body wash.
What was the most challenging part of the Veloburn Academy?
For me it was the sheer amount of hours on a bike. I'm quite fit, but four times per week over the course of three weeks was a lot. On the upside, I felt like I jumped several levels of endurance and now consider a normal ride of 50 minutes not that daunting anymore.
What's going to make your Veloburn workouts unique?
I want to create an atmosphere where people feel comfortable enough to sing along to awesome songs if they feel like it but still reach and go beyond their limits during the challenges.
And there might be the occasional dad joke referring to the lyrics.
What music will you play in your workouts?
80ies, Soundtracks, Alternative and Girl Pop
Fun fact about you?
I own half a dog. Luckily, it's not cut in half, but I share "Chomsky" with another household. The dog is named after scientist and cult character Noam Chomsky J.
Don't miss Ramon's free community ride on Friday, 17.10 at 19:10 in West & on Monday 24.10 at 18:30 in Zug.
PATRICE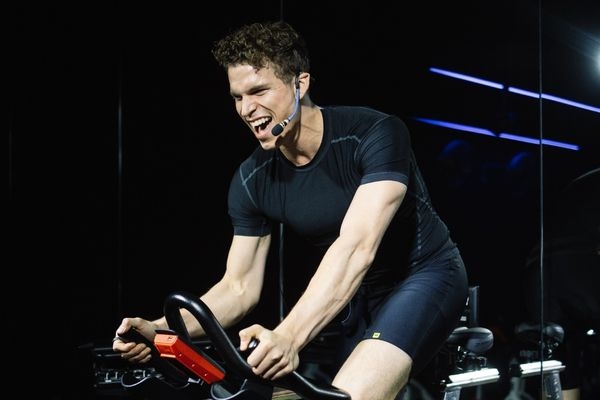 Tell us about yourself
Born and raised in Switzerland but spiced up with an Italian temperament. With the exception of some time abroad, I've been living in Zurich for the past 10 years and I'm loving it here! Sports play an integral role in my life to maintain my physical as well as mental health and I always felt compelled to teach and transfer knowledge. In 2019 I started combining those interests by teaching Volley- and Beachvolleyball, and after years of private spinning I am ready to step up on the podium. Great group fitness coaches embrace the group's energy, and motivation and create lasting experiences – and nothing less is my goal.
Other topics I am passionate about are self-improvement, technology, psychology, and (audio-)books.
How did you discover Velocity?
When I reached the point of taking spinning classes 4 to 5 times per week, I was hungry for different styles, inputs, and challenges. After visiting one Veloburn, speaking with the people, and living the experience I knew I had found my spot.
Why Velocity?
The vibe, the people, the sense of community, and the aspiration to better yourself which is omnipresent. It is difficult to describe – join us and you will know!
What was the most challenging part of the Veloburn Academy?
It is incredibly difficult to create an overall harmonical experience as a coach: When you visit a workout, it looks so natural and easy and simply sucks you into this motivating spiral…
Turns out there is a vast amount of underlying theory and structure to consider, and the coaches work extremely hard to get there. It certainly pushed me outside of my comfort zone, which was tough but well worth the journey.
What's going to make your Veloburn workouts unique?
I am probably a little crazy and proud about it. The same goes for my workouts, in which I aspire to push and reward you, equally heavily.
What music will you play in your workouts?
A colorful mix of electronic, pop, and all-time classics sprinkled with surprises 🎉
Fun fact about you?
I look away whenever there's publicity, so that "they" don't win 😎
Don't miss Patrice's free community ride on Friday 14.10 at 12:30 in Enge.