Everything you need to know about Outdoor Rides
by Kim – 5 May 2021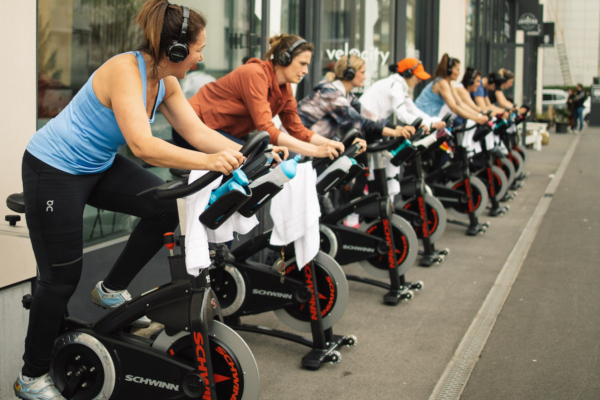 Nothing can stop us! Since Monday 29th March, we've been riding with you outdoors. What a crazy feeling to be back on the bikes and enjoying the Spring weather. We get a lot of questions about the weather changes and credits so we want to give you a quick briefing on how we handle our Outdoor rides at the Velocity Studios in West and Zug.
First of all, to adhere to COVID-19 regulations we space the bikes 1.5m apart and disinfect all equipment between each ride. Because the rides are outside you do not need to wear a facemask while riding outdoors with distance. As usual, we will provide you with shoes and a towel in the studio as well as a pair of headphones so we can pump that bass while keeping our neighbors happy. 
Headphones
You can adjust the volume of the music on your own on one side of the headphones. In case you cannot hear the coach or music correctly (which rarely happens) try turning the headphones off and on again. If that doesn't work, we have spare sets of headphones in every studio in case your headphones are not working. Just alert your coach or the studio manager and they will switch them for you at any time during the ride.
Rain policy
Since it rains from time to time in Switzerland, we would like to give you some information on how we handle the rides in bad weather conditions. 
If the forecast is for heavy rain we will most likely move the ride indoors. We are constantly monitoring the weather forecast and will try to inform the riders as early as possible in advance if there are any changes. Important: the rides will take place outdoors if it's cold or just a light drizzle but more about that later.
Here are your options when we contact you and to tell you that the ride is inside:
Accept the change and wear a mask during the ride – we are very happy to welcome you to the studio!

Tell us that you don't want to ride inside and then we will understand that you don't feel comfortable. In this case, we will credit you back and hope to see you again when the weather gets better.
Of course, it can always happen that it starts to rain in the middle of the ride, in this case, we would get a general consensus whether to keep riding outside, take it inside or cancel the remainder (as an example, the stretch). Decisions always depend on the situation. So if it comes to such a rare situation that the ride is canceled during the middle of the ride, or in a rare case it should be moved inside (and you don't want to ride inside) then we will return your credit.
Layer Clothing for Rainy Days
As mentioned above, the rides take place outside in cold and drizzling weather. Here we want you to provide with some layer tips:
Wear different layers ("Zwiebellook").  From top/shirt over long sleeve to windstopper or rain jacket

On colder days, don't forget your gloves and possibly a thin beanie/headband (thin so you can still hear the music from headphones)
Finally, if it's really warm out, wear shorts a cap and sunscreen.
We hope that this information will help you. If you have any questions, please feel free to contact one of our studios.
We look forward to welcoming you to our next outdoor ride!