One Couple's Journey to a Healthy Lifestyle
by Mal – Saturday, 13. October 2018
This past Winter, Bárbara and Raúl set themselves on a healthier path by clipping in at Velocity, eating healthier and setting goals. They share why they love riding together as a couple, how they lost 20k each, and have been inspired to make healthy choices and more…
How did you first discover Velocity?
Bárbara: It was a lucky coincidence! I went to the doctor during a visit to Madrid. Unfortunately, he diagnosed me with trochanteritis (hip issues) and told me the only treatment that would help would be physiotherapy. He also recommend me to do cycling to strengthen my hips muscles.
One of the businesses underneath the apartment where we leave is a physiotherapy practice… and just when we came back from our trip we discover that there was a new business opening: Velocity, a spinning studio!
So Raúl (my husband) & myself immediately signed up and got started since the very first day. Today, I have no sign of pain from my trochanteritis!
What happened after that?
Raúl: It was my first experience with indoor cycling and I it was love at first sight. I'm a stats freak and loved the idea of tracking performance, dashboards, etc. Also, I liked the fact that I could regulate my effort depending on how I'd feel.
Bárbara: I used to do a lot of spinning when I was living in Dublin, but I stopped when I moved to Zürich in 2015. I looked for studios online but found nothing so Velocity allowed me to come back.
Raúl: We were quite consistent until more or less May 2017; then we went on holidays to Japan and we just didn't find the time and strength to come back… even when our last class before that was actually an open air one at Bürkliplatz led by Celine where we had a lot of fun!
When did you decide you needed to change something?
Bárbara: we didn't like the fact that we had abandoned regular exercise. We knew we had to go back to a healthy lifestyle, not only in terms of sports but in terms of diet as well.
Raúl: During December '17 we were planning and mentalizing ourselves to change with the new year. We'd never been good with new year resolutions… but this time we were going to try our best!
Bárbara: We planned the new exercise routine, new diet and of course Raúl created a spreadsheet to plan what groceries we'd buy, what we'd eat each day and what our exercise and weight targets would be for every week. We had to adapt not only our routine but also our social life, trips … everything! If we were determined to make a change, we could leave nothing to fate!
How long has it been? Where are you now?
Raúl: Exactly since January the 8th. We came back from Christmas holidays on January the 7th, we were driving and at that time at night the only thing we found opened for dinner was a Burger King: we decided that would be our last treat until we had reached our target weight.
Bárbara: We've lost 20kg each of us! We reached our ideal weights and we're now trying to stay there. I think this is  the most difficult part, at least for us. Having a very strict routine made it easy to know what to eat and what not and how much exercise we should do. Now we have to integrate those routines within a normal, balanced life, so that we can allow ourselves some flexibility. So the question is: when can I have a pizza and when not? During the diet it was easy: never!
Raúl: What we know now is that doing exercise has to be part of our routine. Apart from our regular Velobeat classes at Velocity, we're trying to do at least two TRX sessions and some running every week.
Bárbara: Running for me is the last option, as it's not good for my hip but when we are traveling is the easiest choice. Depending on where we travel to, sometimes we also put our spinning shoes in the suitcases and try spinning studios… not that they're as good as Velocity, we must say 🙂
How do you plan to maintain it?
Raúl:  we're figuring it out along the way. The idea is to have a basic routine of healthy eating and exercise that also allows some flexibility to incorporate social events, holidays, etc. It's not easy, but we also have good daily reminders of the positive effects of staying healthy: all our clothes fit us well, we enjoy doing sports, and we cope much better with stress. So the effort is worth it!
Bárbara: the only thing we know is that we have to continue on this together. We were able to do this only because we were supporting each other, helping during moments of weakness and understanding what we were going through.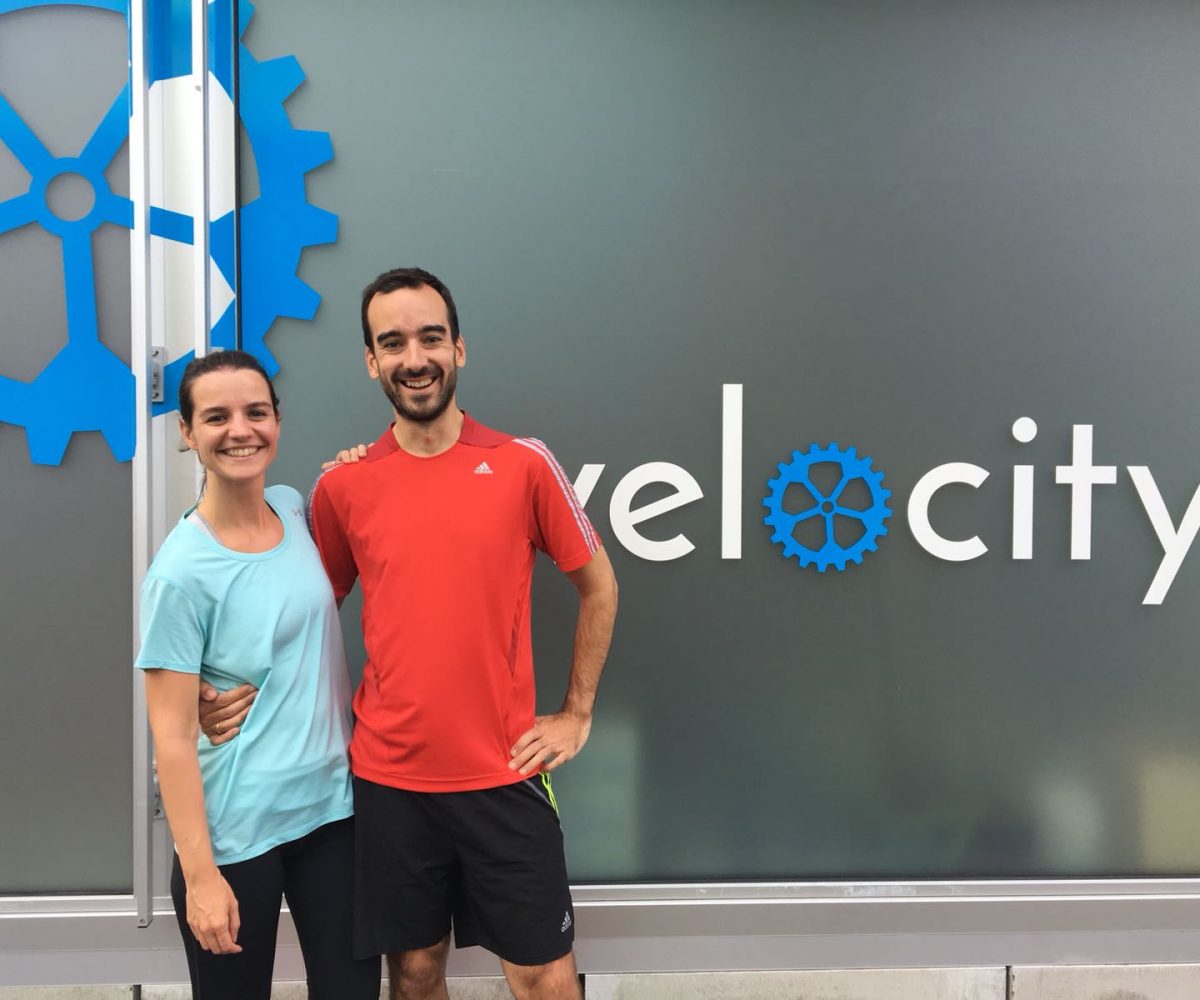 What's the most inspiring thing about Velocity? What keeps you coming back?
Raúl: apart of the fact that it is right below where we live??!!!  For me, there are two key ingredients: it's convenient & fun. In just one hour of strong exercise you achieve a lot and you also recharge your energy by enjoying the music, being surrounded by others, etc.
Bárbara: I used to do spinning quite a lot a few years back, and I have to say that the music and the exercise were also there at that time, but what Velocity has is the team/group/community atmosphere and the instructors of course! That is what I think makes it different.