"It really motivates me."

"It motivates you to push even harder."

"The more the better."

"I think it really spurs on the riders."
Our Veloboard: The Power of Competition
by Mal – Friday, 21. April 2017
More and more people, particularly women, are taking on extreme competitions and exercise, with the desire to be challenged and pushed hard to reach higher levels of performance. From 2010 to 2014, women's registrations in Ironman races grew 275% according to Elle Magazine. Setting new fitness goals, and setting them often, is the new norm. And since every goal, no matter how small or how big, is more achievable by building step by step, the support of measurement tools in fitness can bring previously exclusive (think Olympic training) methods to each and every one of us.
We know from research that repeated exercise at a consistent moderate intensity can be successful for maintaining moderate levels of fitness but does not reap nearly as much reward as pushing to maximum effort for shorter bursts, i.e. intervals. Here at Velocity we feed our customer's appetite to compete with our Veloboard (the only in Switzerland) to embrace the power of a bit of healthy competition.
WHAT IS HEALTHY COMPETITION?
Competition has a purpose in nearly all aspects of life. The most obvious benefit of general competition is it keeps you accountable and honest with your efforts in relation to your expected outcomes. Input = Output. But how do you know what you are really capable of if you don't have some sort of peer measurement? Healthy competition can help you push yourself, help you raise your bar, help you achieve more, and help you be more. But healthy competition is not just about you. Yes, you will benefit from the energy others bring to the room, and they will appreciate every ounce of energy you give back. Stronger together. What can be better than realizing those physical benefits of feeling stronger, healthier, sexier and more energized with increased confidence, productivity and overall happiness…all together as one team?
Hey men! Let's face it, throughout history you men have been the majority players who have thrived in competitive sporting environments. The media has always encouraged you to push yourselves harder in the gym and at sporting events. Of course, biology contributes to your natural affinity toward competition via elevated testosterone levels. Don't stop being you! Strong, fit, sweaty and sexy is just how we like you.
But women! Today, more and more of us are putting ourselves in these competitive sporting environments. I believe this has a lot to do with the new media trend of "strong is the new skinny" and showcasing sporty women as sexier and more appealing than even a decade ago. In addition, as more of us women start to push themselves in their fitness activities, they feel the mental and physiological benefit it has in all areas of life. What better feeling is there than the adrenaline rush of pushing to and beyond your apparent limits? Feeling confident becomes less about what society says and more about how great you feel, especially when you feel physically fit.
A little competition helps push you to higher levels and keeps complacency at bay. Most of us will have a memory of not really wanting to do something, a lackluster feeling, and then a competitor or coach or competitive urge nudged you, pulled you and maybe even pushed you hard to turn it up a level. Suddenly your adrenaline kicked in and you completed your best workout. This is the power of competition and a reason to surround yourself with the energy of others wanting the same experience.
THE MERE PRESENCE OF OTHERS INSPIRES US TO TRY HARDER
Indeed, one of the first social psychology experiments ever undertaken (back in 1898!) was about just this; that cyclists racing against each other instead of against the clock go faster. This so-called 'social facilitation' has long demonstrated that the mere presence of others inspires us to try harder. Fitness lost sight of this seminal point, with gyms allowing members to fall into a trance on a treadmill. The rise of CrossFit, making fitness measurable, and of our own Veloboard at Velocity, are a reaction against this, a return to social facilitation that helps people find motivation in groups and in competition. Your position in the ranking, whether your real name, or your alias, is there on the board for all to see – men vs. women – and it makes you work harder than you ever have before.
THE VELOCITY VELOBOARD ETIQUETTE
The community of riders at Velocity continues to amaze me. They are from all walks of life, of all ages (12 – 77), and with different goals. They gather together each week, put their fears aside and push each other. It doesn't matter if they are new, a seasoned rider, out of shape or in shape, because everyone puts in their own great effort, feeds off each other, and supports each other. This same phenomena I remember distinctly during my first Ironman in Zurich in 2012. The women, though outnumbered by the men 15x, were incredibly supportive of each other before, during and after the race. Never have I witnessed such compassion seemingly blossom out of thin air. It was as if we women weren't competing against each other. We were in it together.
While the Veloboard displays individual rankings, it often feels like a team effort. I often hear the person in the Number 1 position thank the Number 2 for chasing them to that point. This is what healthy competition and our Veloboard is all about. Replacing complacency with a little healthy competition will only drive positive mental and physical results.
If you're more private but still want the energy and push of the room with the Veloboard, everyone should know that the Veloboard is optional in the first place. One always has the option to take him/herself off by clicking the X next to "Show Stats" in his/her online profile. You'll still receive your stats back to your online profile… for your eyes only.
Switch the Leaderboard on or off in your profile: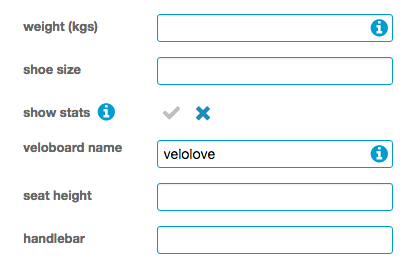 Of course, with the Veloboard someone is always last and my hope is that this person knows that we all want him or her to rise to the middle of the pack. Inevitably it is the community of riders and an attitude that suggests "every effort in this room is a great effort" that will keep that last person on the Veloboard coming back, perhaps with a new fitness goal of beating his or her previous calorie burn or kilometers ridden. Please join me in support of this. Velocity is a place for everyone, where everyone supports each other.
Come join us and see how hard you can push yourself and each other. It's not as scary as it sounds, nor as radically competitive. You'll be surprised!