Velocity Founder Mallory Nieman answers: "Why Velocity?"
by Mal – Saturday, 6. May 2017
Where do we begin? How did you come up with the idea of Velocity?
It was a gradual process actually, not the lightbulb moment most people imagine. Growing up near Boston, I was always the girl who did sports at least once a day. Whether it was horseback riding, skiing, or running, I craved the mental switch flip when I could forget about school, work, whatever, and just get it all out. I then moved to New York City in 2006, and started to experience what was then a very new trend of Boutique Fitness Studios that really elevated everything to a whole new level. But I didn't discover the bike until I moved to Zurich in 2010. I was somehow coerced into doing a couple Ironman triathlons (thanks, Travis) and did a lot of Spin classes as part of my training. It was clear to me that a lot could be accomplished indoors (in fact, it can be way more efficient than outdoors) but at the same time I was rather uninspired. The generic gym concept just wasn't doing it for me. Around the same time, I went back to NYC to see a friend who asked: "Have you tried SoulCycle or Flywheel?" And so I did… many times. I was getting these amazing hits of energy and I was recharged. There were moments of freedom in each class that I hadn't found elsewhere. And then it just sort of unfolded from there.
.
What's unique about Velocity?
I wanted to build something that was challenging, yet completely doable when one puts in the effort. I also wanted to create a studio where a person feels as if they are walking into an entirely new world. Velocity is an outlet: an opportunity to let people go through what they need to go through, in a way they need to go through it. You can come for the fitness, but then something else happens, if you're open to it. At the end of the class, I like the unsaid words, just the feelings and acknowledgements that we've all had a shared experience together. I don't know if they know it or not, but the Velocity riders have really inspired and touched me in many ways. They make it all worth it.
.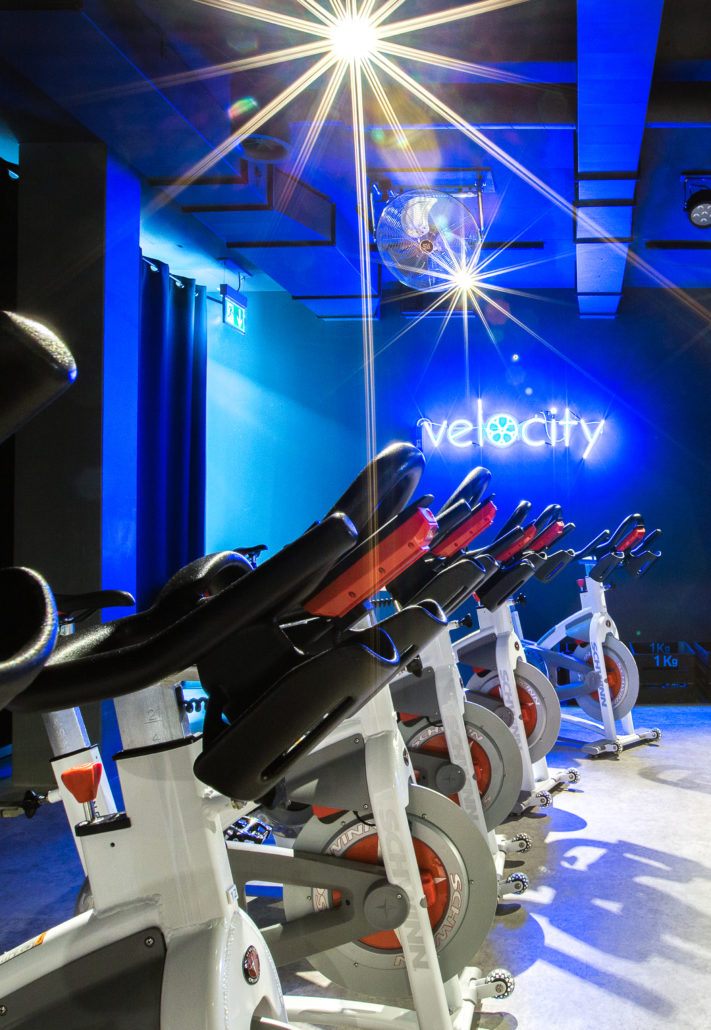 .
Talk to me about the "breakthrough moment" on the bike.
A breakthrough moment is incredibly hard to verbally describe. It's an emotion, something you feel, an experience within oneself. The "a-ha" moments we have at Velocity are experiences within ourselves. It could be be perceived like a massive weight has been lifted or like a clearing in the clouds. These moments happen when we let go, when we stop controlling our thoughts, when we stop worrying about what's stressing us out, and we open ourselves to feel whatever it is we need to feel. In life, we work so hard to fill "that" void. In these breakthrough moments, you actually crack open a brand new hole and the beauty is that you start filling it with what truly brings you joy. You deal with and find truth. You find clarity and acceptance. You break habits, you deal with loss, you face fear, you push yourself further than you thought you could, you experience a shared joy. You let go of what no longer serves you, and you start saying yes.
.
And so what now?
Oh, I'm definitely not finished. I see lots to come for Velocity and for Velocity's riders. Actually, I'm just incredibly excited. And grateful above all. The Team at Velocity has really become a family. Every time I witness an interaction between Instructors, Front Desk Managers or Riders, it makes me beam. Sometimes there are shrieks of joy when someone walks in the door, or when one instructor attends another instructor's class. It makes me feel so lucky. I found a built-in community and I'm growing with it. I'm so excited to further build the community and share it with many more people.