A Guide for a Perfect Class: The Waitlist, Rules, and FAQs
by Cameron – Thursday, 13. February 2020
The Waitlist
We saw many waitlists in January and so far in February as well. Did you have trouble getting into your favourite time spot? We're here to help! A lot of people have been asking about how the waitlist works here at Velocity and we hope we can answer some your questions and address some concerns.
The waitlist is simply a way to organise requests for class reservations once the class is full. If someone cancels more than 12 hours before the class, they will automatically receive the credit back and the first person on the waitlist is immediately sent an email with a link to either accept or reject the spot.
If someone cancels with less than 12 hours before the class, and there is a waitlist, GUESS WHAT?!? The person can still receive their credit back, if a person from the waitlist takes their spot. So PLEASE cancel your spot if you know you're not going to make it so that you're not only giving someone else the chance to attend, but also getting the chance to get your credit back.
The team at Velocity monitors the waitlist closely. If we see someone is taking their time to respond, we normally send an email or text message warning before moving on to the next person. This is a good reason to add your phone number to your profile, and normally the only reason we would contact you by phone! 🙂
You do not necessarily need an active credit in your account to add yourself to the waitlist, but please note, to be moved off the waitlist and into the class, you will need to purchase a credit if you don't have one already.
If you are on the waitlist you can also come to the studio, and if someone doesn't sign in 5 minutes prior to the class you may take their place. It's quite often that we have a "no-show" or two per class.
This also means… please show up at least 5 minutes before the start of class or you may lose your spot! More on this below 😉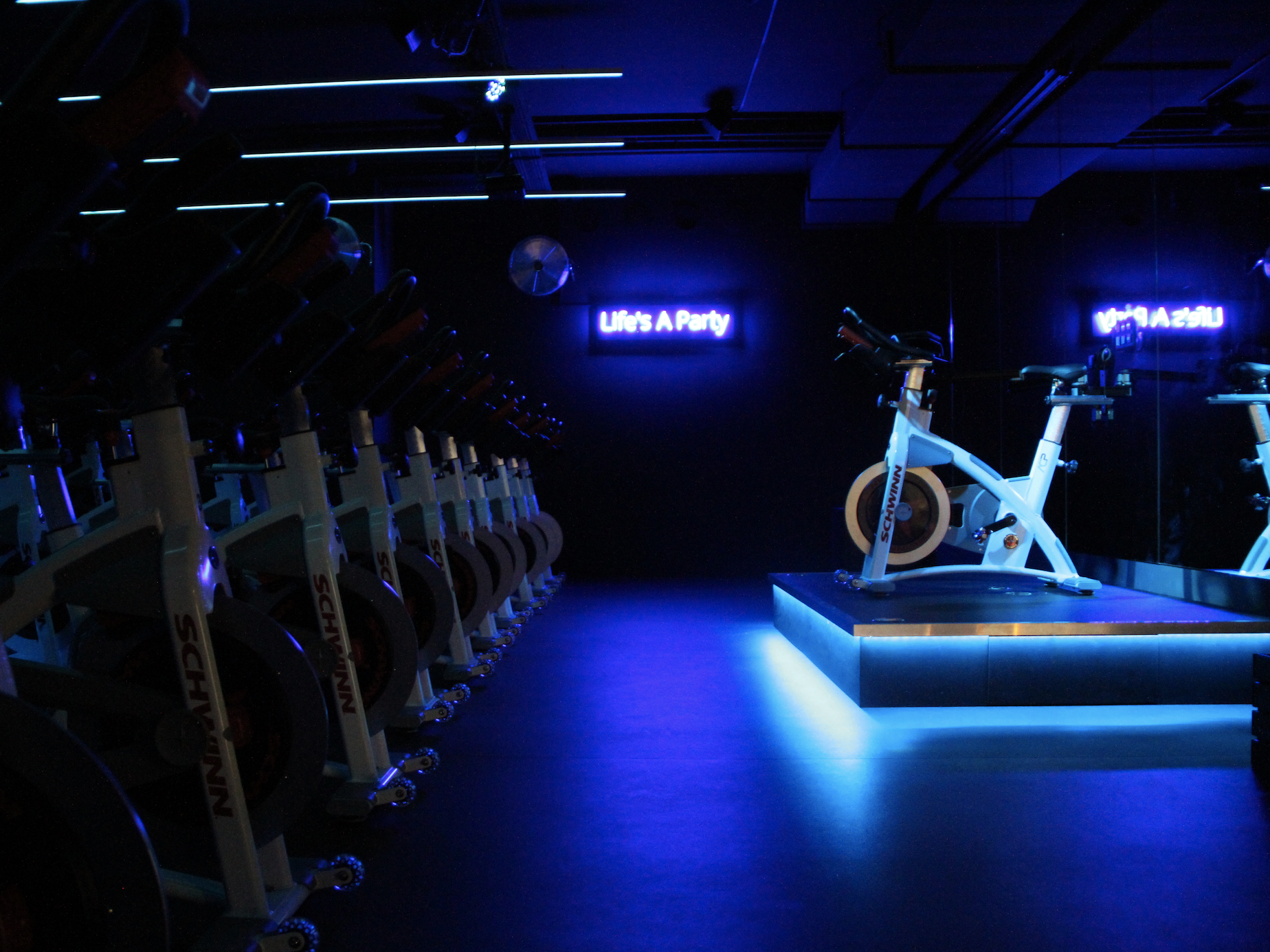 A Few Rules for Classes
More than anything at Velocity we want to provide a consistent, fun, and fulfilling experience with each class you take. Every class should feel as energetic and challenging as the last, and we want you to feel focused and strong each time. We do our best to control any and all issues that might arise during your 50 minutes of strength building and muscle burning action, but sometimes we need your help. To make sure everyone gets the most out of their classes we have a few simple rules:
Phones Off: Power off devices and connect with the music instead. We ask that you leave your phone in your locker. If you have a babysitter or are expecting an important call, you can always leave the phone with the front desk who can answer and notify you if there is an emergency.
Avoid Unnecessary Chatter: Please refrain from chatting with friends and colleagues during the class as it can be distracting to others who are trying focus on the instructors direction.
Timing: Please check in at least 5 minutes prior to class or your spot may be given to someone on the waitlist. Once the door closes, we won't be able to let anyone into class late. Unfortunately, letting someone in late can be distracting and unfair not only to the class but also to the instructor. If you are a first timer, we hope you are able to arrive at 15-20 minutes prior to the class so that we can help you with your bike or Xformer set-up and make sure you are settled prior to the start of your session.
Be Kind: At Velocity we believe everyone should be treated equally with respect regardless of circumstances. Please be kind and supportive to others during your time here.
Stay Hydrated: We ask that you please bring water or a chosen sports beverage with you to class for your safety and to prevent you from becoming dehydrated. The classes can be tough and even if you sweat very little, you need water to help offset the energy expenditure during class. If you don't have something with you, there are many options for sale in all of our studios. Please also eat something at least 30 minutes before class to prevent feeling faint or getting a cramp.
We get a lot of questions about classes, scheduling, and what to expect at Velocity, and we'd like to take the time to answer some of those here. If you have any more concerns you can always email us at hello@velocityswitzerland.com and we will help you with whatever we can.
FAQs
Can I get my credit back if I have an emergency?
We have a one-time exemption policy for late cancellations, meaning that if you are not able to attend class due to an emergency, and email or call us with proof of an emergency, we will refund your credit the first time. After this, we cannot guarantee you your credit refund.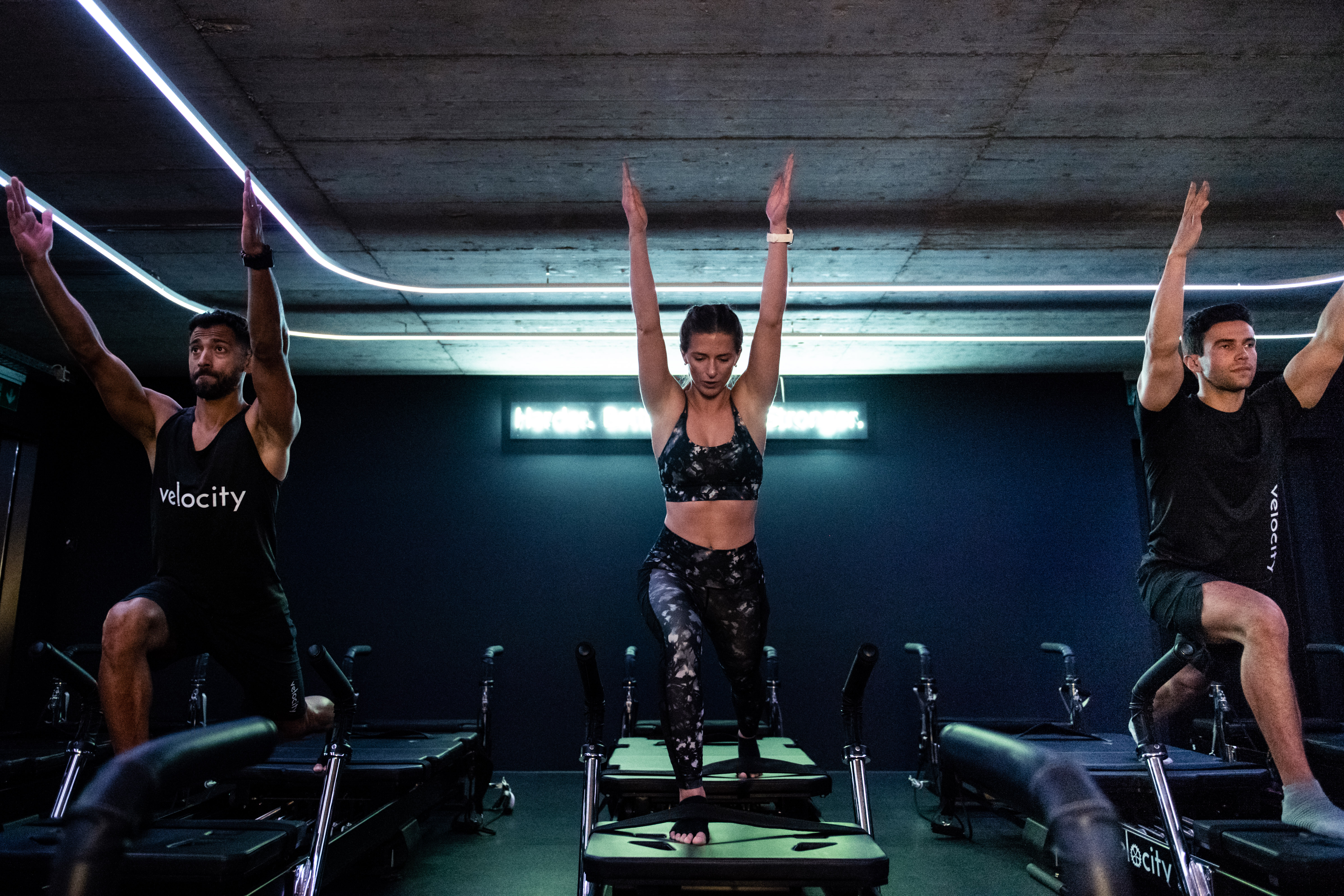 What should I wear to class?
For power classes we request you use grip socks which provide extra traction. The reason is not only for hygiene, but also for safety. We also request that for both hygiene and respect to others in the room, that the minimum dress on top should be tanks/shirts for men and sport bras for women, and that you bring kleenex if you need to blow your nose.
Can I get a discount?
We offer many discounts to some larger businesses around Zürich and Zug in return for internal promotion. Please consult a front desk manager or send an email to us if you would like to know if there is promotional offer available for you and your colleagues.
When do my credits expire?
Different packages have different expiration dates, the larger the given package of credits, the longer period of validity. If you are injured, you can extend your credits when you provide a medical note. Please see the table below for the standard validity periods: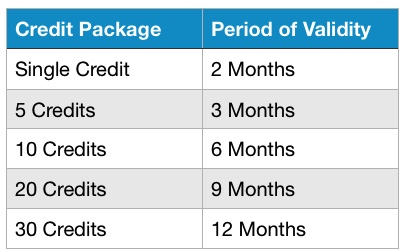 What can I do with my credits if I move?
If you are leaving Switzerland and won't be returning, you can reassign your credits to a colleague or a friend by contacting us directly.