6 tips to find time to work out with a busy schedule
By Anna – 4 September 2022 
We get it, between long working hours, packed social schedules, and new Netflix series, it can be difficult to find the time to work out. But at Velocity our passion goes beyond the workouts.
Getting to move your body leads to an overall happier and healthier life and positively impacts both your physical and mental state, so finding the time for your training goals and your well-being is essential.
Read on to find out our 5 best tips to find time to work out and get your head in the game.
FIND A WORKOUT YOU LIKE
It all starts with finding a concept that works for you. All our Velocity workouts are designed to completely transport your body and mind to really focus on your muscles moving. Whether you need a mental escape or a solid kick-ass workout – we're your best bet. Our indoor-cycling workouts are high-intensity, killer sessions that are bound to leave you energized. And if your goal is to tone and tighten your muscles, Power should be your go-to.
MAKE IT SOCIAL
Sometimes it might feel like you have to decide between seeing your friends and getting a workout in. But why not both? Cultivating friendships is important and healthy, but instead of grabbing drinks, invite them to join you for a sweat session. Working out with others is a great way to keep you accountable and motivated, plus you'll have another thing in common. And who said you won't have the time to sneak a cheeky drink afterward, anyway?
GET THE MOST OUT OF YOUR TIME
That is why we developed a method so that you can flexibly schedule a highly effective mind-body workout in 45-50 minutes with inspirational music and instruction that flips the mental escape switch and pushes you to attain your goals with maximum fun. They are long enough to get you sweating and your blood pumping, but short enough that you can still get on with your day. Opting for a workout that's scheduled and has a clear duration will take out a lot of planning on your part.
CHOOSE THE BEST TIME OF THE DAY
We all have different schedules and preferences, so finding out what works best for you is key. Here are the benefits of moving your body at certain times, it's up to you to pick a time and stick to it.
Morning: Getting your workout in bright and early is great because you can get it out of the way and get on with your day. It can also kick-start your metabolism and help break down stored fat. By working out early you get to tick something off your to-do list before the day even begins and make you feel accomplished. But let's face it, not everyone is a morning person. Luckily, there are plenty of other options.
Lunch time: For those of you working in a corporate setting, taking an active lunch outside of the office might be a good idea. Not only will it get you up on your feet, but it will also allow you to get a mental break from work. If you ever find yourself struggling to focus after lunch, try a workout and see how it shifts your mood. And if you're worried about the food options – don't be. All our locations come with plenty of nearby restaurants and shops. And in Velocity Enge you can even enjoy a healthy and delicious lunch from Roots that can be pre-ordered right in the studio.
Evening: There are many reasons why evenings are a great time to get your workout in. You get to really disconnect from your work day & finish the day strong. It's also a fantastic way to relieve stress and help you unwind before sleep. You'd be surprised how much energy you still have left at the end of the day, so give it a go and see how it feels!

SHIFT YOUR MINDSET
Working out is fun. And it's certainly worth it, both long and short term. However, the way we sometimes think about fitness can make it more difficult to stick to a routine. Never think of it as something you have to do, instead, think of it as something you want to do. Those small changes in how we essentially talk to ourselves can have a huge impact on maintaining healthy habits. If you picture your next workout as taking time for yourself it's bound to make a difference.
BOOK IN ADVANCE (ALSO YOUR CALENDAR)
It sounds simple, but it can really make a difference. Booking a meeting with yourself, whether that's in your work or your personal calendar, helps you commit to the workout and makes it easier to not leave working out as an afterthought. All our Velocity workouts are bookable a week in advance, so take the time on a Sunday evening to plan and commit to your workouts for the week. When booking your workouts with Velocity, you can export the invite and add the event directly to your calendar with one click.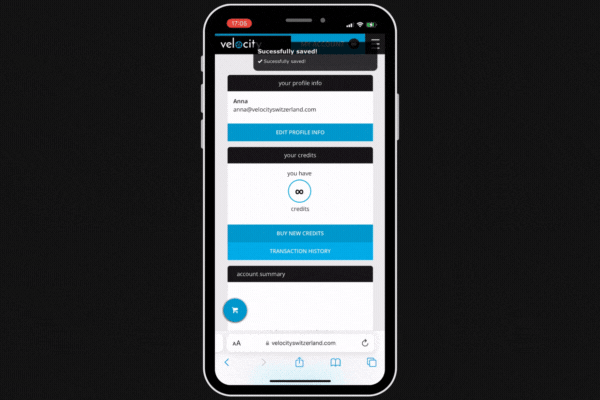 To make it even easier to find your perfect slot to exercise, we added more workouts to our schedule. Check it out and book your next one now (see last tip 😉).