Beat Battle Balance Event @Velocity West 24.09
By Anna – 8 September 2022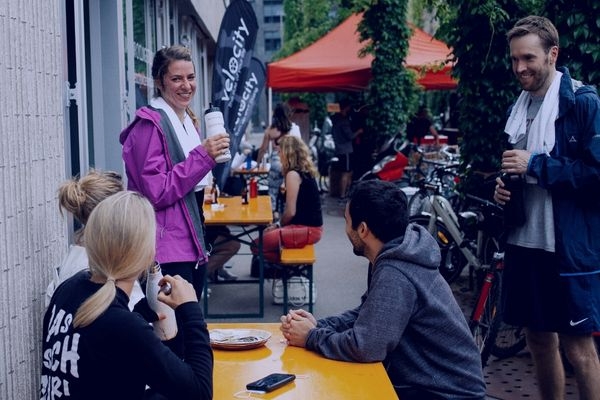 For most, the holiday season is slowly coming to an end and we are finding ourselves trying to get back to our pre-summer routines. A lot of people find their workouts tend to slip in the warmer months, and there are some great reasons for that. We're not here to lay on the guilt. And If you've been smashing your workouts even in the summer hear, well done! But if your routine has been a little off, then now is the time to get back on it.
Let's kickstart your motivation and enjoy the buzz of exercise again. We've got the perfect opportunity for you to do just that. On Saturday, 24.09, we're hosting the ultimate sweat session at our West studio.
Check out the schedule below and find out how to book all of the 3 workouts with just ONE credit.
BEAT | BATTLE | BALANCE
11:10 – 11:55 | 45 mins Velobeat w / Claudia
12:00 – 12:45 | 45 mins BLG Bootcamp w / Alessandra
12:50 – 13:10 | 20 mins Yoga w / Céline
After 13:15 | Snack Bar powered by EatbyAlex & Anao Coconut Water
You will start this lunch session with a high intensity Velobeat workout with Claudia that's bound to get your blood pumping and your heart rate up. Just in time for an outdoor BLG Sports bootcamp with Alessandra. You'll finish off with a 20 minutes yoga session to help you stretch those muscles!
After that, you'll get to enjoy a snack bar filled with goodies from EatbyAlex and refreshing Anao Coconut Water. Stay and mingle with us & let's enjoy the last summer days.
The bookings for the Beat Battle Balance Event open on Saturday 17.09, but be quick, limited spots are available. You can only book all of the 3 workouts together, with just 1 credit. Simply book like any other Velocity workouts on our schedule.
We can't wait to see you there! Don't forget to follow us on Instagram to stay updated.