Covid Certificate Q&A
by Mal – September 12 2021
From Monday 13. September, the COVID certificate requirement will include bars and restaurants; leisure, sport and entertainment venues, such as theatres, cinemas, casinos, swimming pools, museums, zoos and indoor events; as well as activities organized by sports clubs and cultural associations, unless they take place in fixed groups of up to 30 people (meaning the group of 30 does not change).
Thus, the new mandate from the Swiss Federal Council includes the Velocity Fitness Studios, and thus we are required to check COVID certificates for anyone entering the indoor studio to participate in our group fitness workouts.
There are many questions and some exceptions to this new legislature, and thus we've put together the following Q&A to help navigate this new requirement for the Velocity studios so that your experience can be as seamless and easy as possible.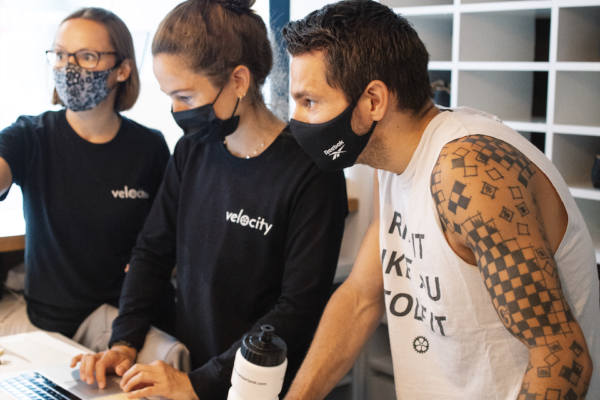 1. Where do I need to register to get a COVID Certificate app?
Anyone can download the COVID Certificate Check app free of charge from the Apple App Store, Google Play Store or Huawei AppGallery. Once downloaded, simply scan the QR code from your PDF vaccination certificate or test and you're good to go. This is the fastest and easiest way to be verified at our studios. Please ensure you also have your ID ready to ensure the name on the certificate matches.
2. How are COVID certificates checked?
All Velocity front desk managers will have access to the COVID Certificate Check app to check the authenticity and validity of COVID certificates. To do so, the QR code on the paper certificate or in the COVID Certificate app is scanned. During this process, the front desk manager checking the certificate will see your name and date of birth on the "COVID Certificate Check" app and whether the Covid certificate is valid. We will then verify the photo identity document (for example a passport, ID card, driver's license, residence permit, student pass or SwissPass) and ensure that the certificate was issued to you. If the name on the certificate does not match the photo ID, entry will be refused and the credit refunded to the account.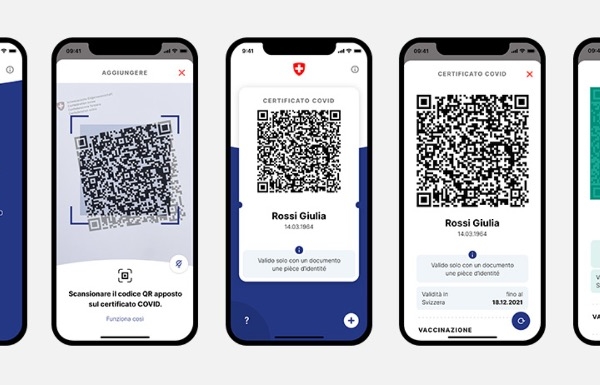 3. What other data on certificate holders do checkers see?
During the checking process, the app does not store any data on central systems or in the COVID Certificate Check app.
There is also a "Certificate Light" available to everyone in Switzerland, regardless of how the certificate was obtained (vaccinated, tested or recovered). This is a function within the COVID Certificate app and used for privacy reasons. If you activate this function, a new QR code is generated without any health data based on the information from the 'normal' COVID certificate. The certificate light only contains a last name, first name and date of birth, and a 48-hour countdown clock to prevent checkers from knowing how you obtained a certificate.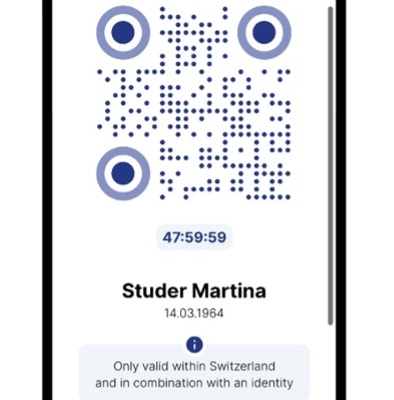 4. What happens if you cannot present a COVID certificate?
If you are denied entry, the credit will be returned to the account and you should email hello@velocityswitzerland.com to discuss any further questions with a manager. Please be respectful of our staff and understand that they are doing their jobs and following the law.
5. Are there any exceptions to the COVID certificate app with QR code?
Ideally, you should show us a certificate with a QR code for scanning. However, there are a couple exceptions:
1. If you show a negative PCR or Antigen test. A PCR test must be less than 72 hours old, and an Antigen test must be less than 48 hours old. Most testing centers do provide a QR code in order for the negative test to become a certificate. Thus, if there is time before the workout, you should transfer the test to the app while waiting. At-home and/or self-tests are not accepted under any circumstances.
2. If you show us the paper form of your vaccination(s) which shows you are fully vaccinated with a vaccine approved by the European Medicines Agency (EMA), which are Comirnaty (Pfizer-BioNTech), Spikevax (Moderna), Vaxzevria (AstraZeneca) or Janssen (Johnson & Johnson).
If you were vaccinated abroad and you're interested in getting your vaccine transferred to a Covid Certificate, you will need to apply via your Canton's website:
For Zürich:
https://www.zh.ch/de/gesundheit/coronavirus/covid-zertifikat.html#-792208150
For Zug:
https://iform.zg.ch/iform/pub/GDS/start.do;jsessionid=4B8EB4C4B8174740C1382F73BCB897D4?wfjs_enabled=true&vid=6de5a8f147c6b295&wfjs_orig_req=%2Fstart.do%3Fgeneralid%3DGDS_ANT_COVID_ZERT&txid=e636e5ec1f70ef9a6176dcd52390c096ac6d2946&vid=6de5a8f147c6b295&wfjs_orig_req=%2Fstart.do%3Fgeneralid%3DGDS_ANT_COVID_ZERT&txid=e636e5ec1f70ef9a6176dcd52390c096ac6d2946#
All other cantons can be found online.
Certificates are not available for all WHO (World Health Organization) vaccines, thus if you are vaccinated with a vaccine that is not listed above, including but not limited to NVX-CoV2373, CVnCoV, Sputnik V (Gam-COVID-Vac), COVID-19 Vaccine (Vero Cell) Inactivated or Vidprevtyn, you will not be admitted entry and are unable to receive a Swiss Covid Certificate for the time being.
6. Are there options for those without a negative test, proof of recovery or proof of vaccination to attend Velocity?
Yes. There are three options:
1. Currently we are hosting rides at Velocity Lakeside, an outdoor location at Bellerivestrasse 170, 8008 Zürich. These rides are entirely outside, so there is no certificate requirement. You can find them if you filter on our Schedule for the Studio called "Velocity Lakeside". There is access to public toilets just meters away. Please only note that there are no showers at Lakeside… but there is a fantastic view and a lake! We also have tents in case of rain.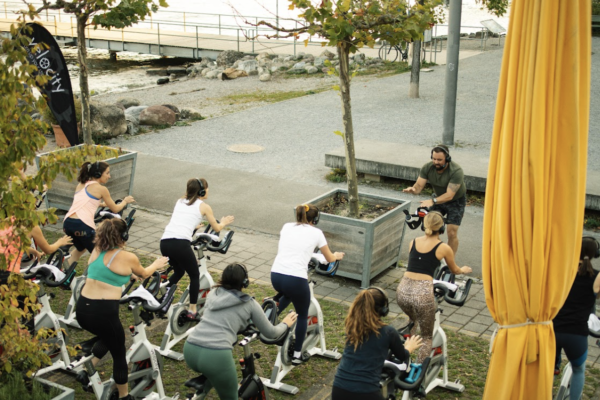 2. As per the BASPO rules (Bundesamt für Sport), private trainings are allowed without a certificate requirement. Masks must be worn if the coach and client cannot maintain distance, which is rarely the case at the Velocity studios – there is ample space in our studio rooms to keep distance. If you are interested in personal training, please email hello@velocityswitzerland.com to book a training during off hours.
3. You can still train with our coaches online at velocity-live.com – we have approximately 350 workouts over 7 workout categories, HIIT, Strength, Veloburn, Velobeat, Power, Yoga and Stretch.
7. From what age does a certificate have to be shown?
The certificate requirement applies to individuals aged 16 and over. If you or your family member is under 16 years old, identity must be checked, and parental permission granted as per the Studio Waiver Form. Only then can a customer under 16 years old be admitted entry.
8. Who covers the costs of tests to obtain a certificate?
Until 1. October, the rapid Antigen test is free of charge. From 1. October 2021 onwards, people who get tested in order to obtain a certificate will have to pay for the test themselves (on average CHF 50). Velocity will not in any way cover the cost of tests.
Vaccinations are free of charge, and will be for the foreseeable future according to the Swiss government.
9. Are masks still required in common spaces? Is Velocity taking other protective measures?
Masks are no longer required in common spaces, however keeping distance and washing/disinfecting hands often is still highly encouraged. Hand disinfectant and masks will continue to be provided free of charge in every studio. Thorough disinfection of equipment and other surfaces remains a frequent occurrence throughout the day and after every workout. Our studio's ventilation system circulates over a thousand cubic meters of fresh air throughout the studio every hour. Should you feel unwell, it is important to immediately get tested and stay home.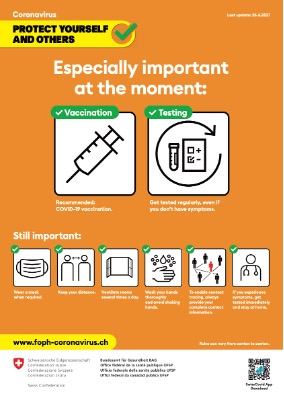 10. For how long will these certificates be used?
At present, it is planned until 24. January 2022 but could be shortened or prolonged depending on the epidemiological situation.
—
We hope this document helps to answer all your questions regarding the Covid Certificate. We understand that this adds an additional layer of complexity to checking in to your workout. But with this information, we hope you feel better prepared for the new regulations.
We sincerely thank you for this effort and for all your support in making Velocity the great place that it is!