Meet the Brain Behind Velocity: Mallory Nieman
by Lona – Friday, 28. August 2020
Mallory Nieman, founder and CEO of Velocity, started the indoor cycling trend in Switzerland over five years ago. She also built up a tight-knit community of internationals and locals alike. 
This week, our marketing manager interviewed her to find out more about her journey to founding Velocity, and how she manages to keep her priorities so crystal clear, even in challenging times.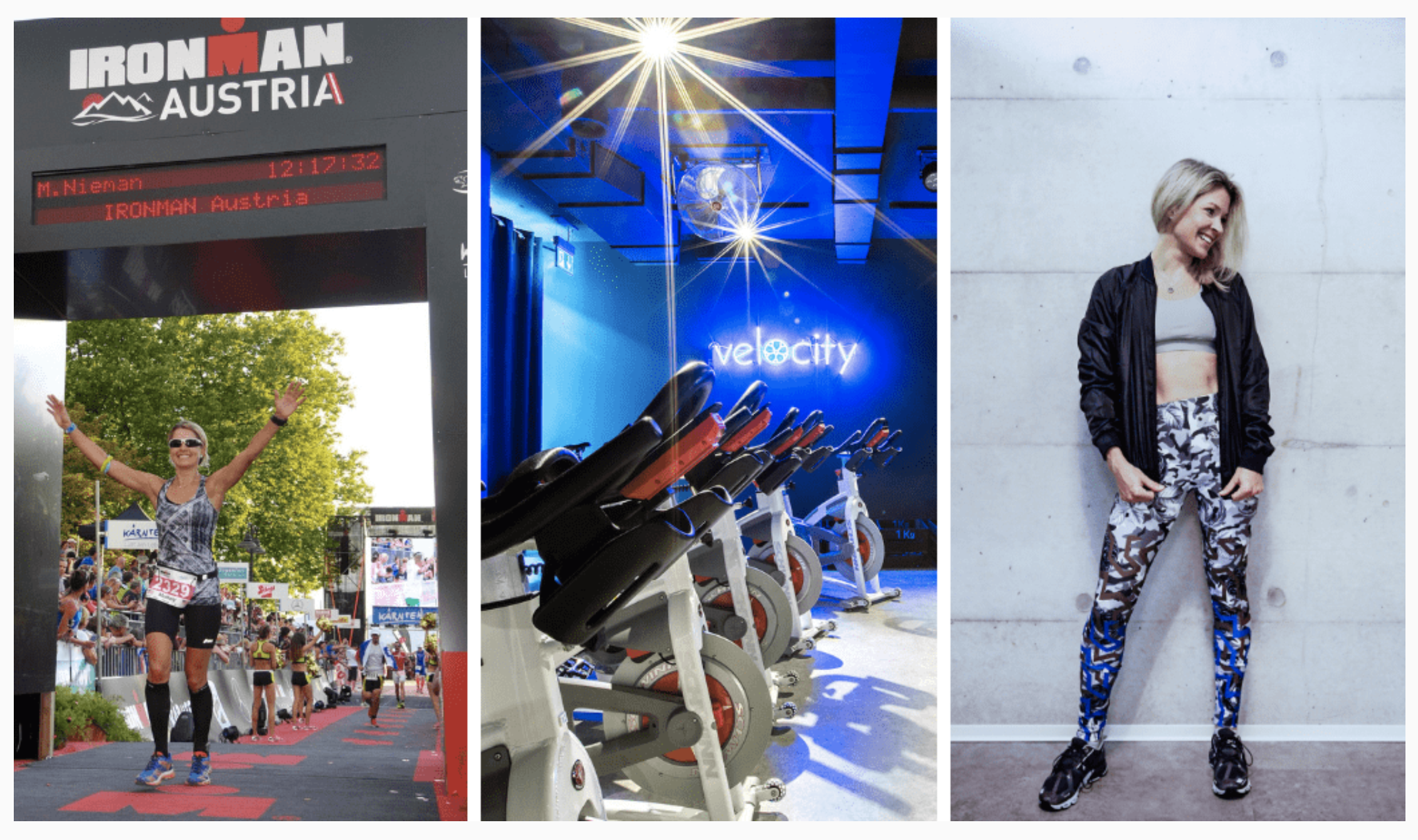 A little bit of background: From USA to Switzerland
Mal grew up in Boston in the USA and always lived an active lifestyle. With several business degrees and triathlons under her belt, she's no stranger to challenge. And after climbing the corporate ladder and eventually becoming the Head of Marketing for Nexus Telecom – starting her own business was almost the only logical next step for her to fulfill her drive for new challenges.
Q: Why did you decide to start Velocity? 
A: I didn't discover the bike until I moved to Zurich in 2011 and signed up for the Zurich Ironman in 2012. I participated in a lot of spin classes as part of my training. It was clear to me that a lot could be accomplished indoors (in fact, it can be more efficient than outdoors) but at the same time, I was uninspired. The generic gym concept just wasn't doing it for me. A friend asked: "Have you tried SoulCycle?" And so I did, many times, when I visited family and friends back in the US. I started a Business program in 2013 and then it just sort of unfolded from there.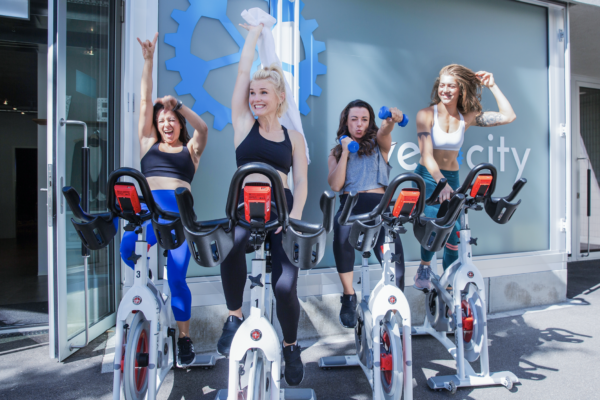 At the same time, Velocity was inspired out of a need. Being an ex-pat in Zurich, I had found some friends in my first few years, but I was missing something bigger. I needed a place to belong, and I knew many others probably did too, whether Swiss or from abroad. So I did my best to build it, and I hope it's brought to others what it's brought to me.
I'm definitely a believer, not only in fitness, but in all the good things that being part of a healthy community can bring to people. I firmly believe that fitness and a healthy lifestyle leads to an overall happier life and positively promotes both physical and mental change. Almost everyone understands the challenges in today's busy lifestyle. Finding time for ourselves, for our training goals, for our balance and our well-being, is essential. My mission is to help people prove to themselves that they can do just that.
Q: What's the story behind the name "Velocity"?

A: We wanted a name that worked for both ex-pats and locals, since we believe Velocity is anything but exclusive. When we were thinking of words like 'Cycle' and 'Bike', we then said 'Velo', and voila… Velocity! It came quite quickly, actually.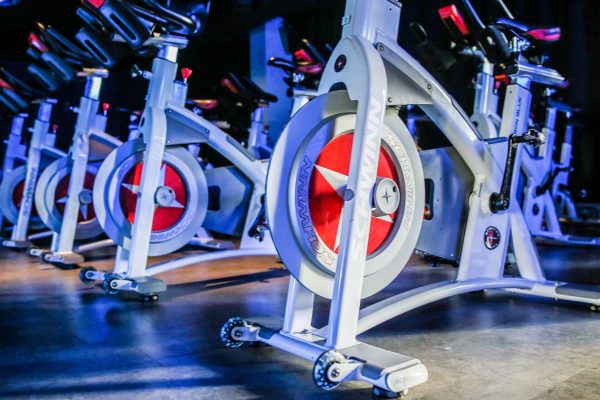 Q: What has been your biggest learning since becoming self-employed?
A: Patience is a big challenge of mine so learning to not always immediately react has been important for me. And also understanding that I don't have to be the one to know or do it all. I think leaders need to know when to seek help or advice and ensure they take time to think things through. 
Q: What daily habits/routines do you have that help you manage the business?
A: I'm a big to-do list person and love the gratification that comes with checking things off the list. There are also so many things being discussed at all times that I have to write things down immediately so I don't forget.
I also really need to make sure I take time to recharge, even if I'm not fully switching off the business. Breathing in the mountain air in Andermatt is what usually does the trick. We've had a cozy little place there for 5 years and it's my sanctuary.
Caffeine also helps. Our studios are open from 6:00AM – 9:30PM so I'm not sure there'd be a way to survive without it.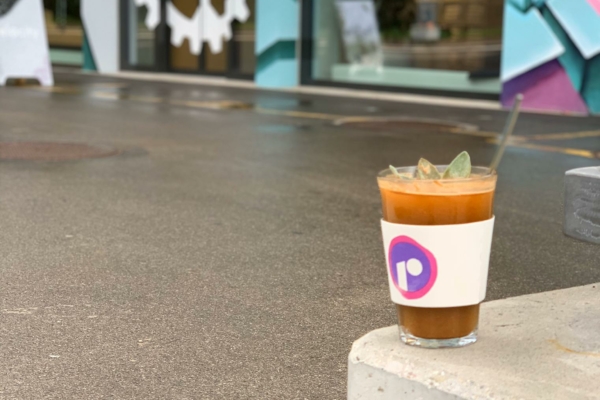 Q: What are your favorite ways to stay active besides Velocity classes?
A: Between Velobeat, Veloburn and Power, I find I have plenty of variation to keep my body guessing. That said, I do love getting outside for rides, runs, and an occasional waterski. Zürich has so much to offer both indoors and outdoors.
Q:  Since you basically live in workout gear, what are your favorite brands?

A: Lululemon, or anything from sport.les, especially when taking it from studio to street.
Q: At a time where travel is difficult, is there a travel destination or experience that you still reminisce on?
A: I've traveled quite a lot, but skiing in Kashmir, India would have to be the most memorable. My husband proposed to me there so I have to go with this one, as cheesy as it sounds.

Q: On the note of travel, what's your most cherished souvenir?

A: Handwritten letters from my husband. We were dating long distance from Zurich to NYC for 2 years. He wrote me letters all the time, mainly trying to convince me to move to Zürich. It's really fun to re-read those. Retrospectively, moving here has definitely been one of the best decisions I've ever made – alongside starting Velocity, of course. 

Q: Is there any advice you want to share with the community?
A: The importance of teamwork, celebrating others and above all, being a good person can't be underestimated. It seems simple, but especially this year, being really clear on these values has been really important for me and for Velocity.
At the beginning of the COVID-19 lockdown, we immediately knew that we wanted to support our community in any way we could. As a result, we gave away all of the bikes we had in our studios, enabling our clients to keep moving during lockdown for free. Based on the feedback we got, we knew that people really appreciated it. That in itself was really rewarding, but we also noticed a huge growth in our followers on social media and new members after the lockdown. This to us, proves that being a good person is also good for business. The world just needs kindness right now.
I'd also add to not be afraid to fail. Adversity makes you stronger. And define success on your own terms. In today's social media-driven world, the pressure to be one way or another can be overwhelming. Focus on developing a strong sense of self and use this confidence as a springboard into a life defined and lived by you.