A Message from Velocity's Founder
by Mal – 1. January 2021
Dear Velocity
2020 has been a year like no other. It seemed like every day brought new challenges and new opportunities. At times, it was incredibly trying and tiring, while at other times, aw-inspiring and hopeful. Time and time again I was amazed by the strength of the Velocity team and community, and deeply touched by how much you all care for each other. The outpouring of love when we entered our first lockdown was striking. One of my favorite emails came just a few weeks ago as we entered the second studio closure, which I'd like to share here:
Hey Guys
My Girlfriend brought me to Velocity at the end of August this year and since then I have done around 60 Workouts or more. It is the best workout and community I've experienced so far and my personal improvement is impressive. I've become really addicted. It fits perfectly the needs of my sport.
With 4 Classes to go before Christmas I was close to reaching my personal goal but as we all know, we are forced to have a break…..
Being an entrepreneur and athlete, I want to thank you, your coaches and staff. I've enjoyed every minute with you guys and I can't wait to be back in January.
Keep up the good work, your contribution is amazing, if there is anything I can do let me know.
Enjoy this unexpected break, get some new and fresh ideas and let's kick off 2021 in January.
All the best and stay healthy & safe

I sincerely hope that Velocity has been able to play a meaningful role in your life and served as a source of positivity during this unusual year. More than ever, we are grateful for you, our community. You are the inspiration for everything we do, and our teams have been working hard to continue to make your experience the best it can be. In 2020 we have:
Added eight new coaches to our incredible team: Felizia, Melanie, Nadine, Steffi E., Selin, Lena S., Francesca R. and Franziska
Welcomed a new Marketing Manager, Laura
Quickly made the decision to lend our bikes away for free for the first lockdown in March to those who asked first
Pivoted to produce workouts live and for free from coaches' homes in the midst of the first lockdown
Found ways to give back, including CHF 1'904.30 to WIRES WildLife Rescue in Australia, CHF 935 to Amnesty International for #blacklivesmatter, CHF 428 to the Lebanese Red Cross, CHF 110 to Movember, and CHF 100 to Stiftung IdéeSport
Launched our online shop for Velocity merchandise, gift cards and an at-home bike
Launched Velocity Live, where we now have over 100 workouts filmed over 6 workout categories, and we're adding more all the time
We also stated that Black Lives Matter and remain committed to fighting for racial justice and equality and to playing our part. I am personally committed to ensuring that Velocity is an anti-racist and LGBTQIA-friendly organization. Since day one, our studio rules have always read, "Kindness is #1. At Velocity we believe in treating everyone equally and with respect, regardless of strength, experience or appearance." This is and will always be the Velocity way.
I also want to take a moment to acknowledge the challenges we faced as a company this year. The pandemic has been hard on Velocity, but even harder for many others, and perhaps this includes you. Velocity had no layoffs as a result of the pandemic, did not lower base pay and did not increase prices. We recognize that this year has been challenging for freelance workers (which many of our coaches are) and for those who work in the most impacted industries. This is why if you or someone you know is unable to easily afford a subscription to Velocity Live but would benefit from our at-home workouts, send us an email to orders@velocity-live.com with the details and we'll pass along a code for a free subscription.
Our goal is to constantly add value to our community, and for it to continue being a place that gives a sense of "belonging". For me, this includes a non-stop effort to better the people within our community and the outside world. To this, we remain committed.
A big thank you for your continued support of Velocity. You continue to inspire all that we do. Together, let's light up 2021.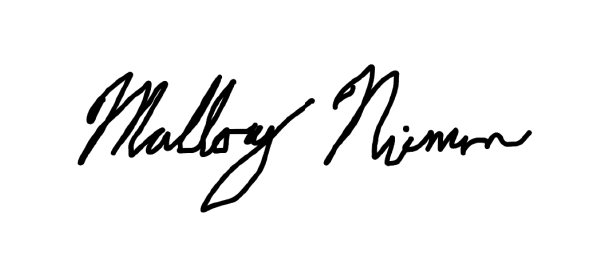 Mallory Nieman
CEO and Founder