Power vs. Pilates – What's the Difference?
By Anna – 11 March 2023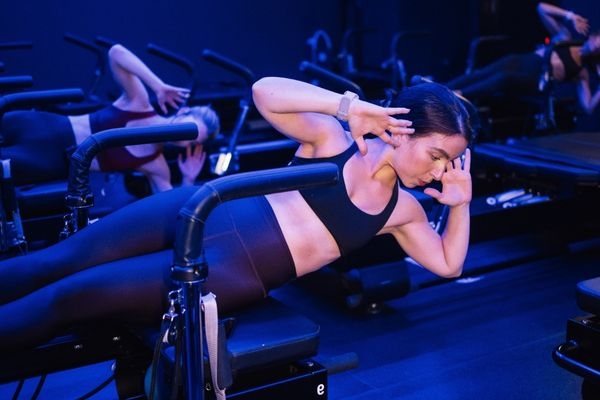 If you're seeking to incorporate a new low-impact exercise into your workout routine, which enhances your core strength and muscular endurance without compromising your joints, Pilates based workouts are the way to go. But while any Pilates workout will center around these principles, our Power workout isn't only focusing on core – it's a full-body, low-impact and high-intensity workout. Keep on reading to find the main differences between regular pilates and Velocity's Power.
POWER VS. PILATES – THE MAIN DIFFERENCE
Regular Pilates strengthens, elongates, and firms the body, while improving flexibility, and is performed on a mat without the use of equipment. Small, controlled movements are emphasized, and a significant portion of the class is dedicated to enhancing core muscle strength. While this is also true for a Power workout, the main difference is that Power is a full-body, low-impact and high-intensity workout. We combine slow controlled movements with bursts of cardio and badass music for a high-intensity, result-driven & energizing workout in just 45 minutes.
THE XFORMER MACHINE
The other, quite obvious difference, is the use of an Xformer machine in our Power workouts. This is what allows us to get a full body workout and target specific muscle groups. It's a resistance device that uses strategic programming that's more aligned with strength training, and although it is a simple machine, it allows for over 200 different movements to target very specific muscles that are otherwise difficult to train. Proper spine stability, alignment, and core engagement are still paramount to Power exercises but you'll also work your legs, core, and upper body in every workout.

POWER TO EVERYONE
The often overlooked advantage of Power is that it can be tailored to suit different fitness levels and goals. The resistance levels on the Xformer machine can be adjusted to accommodate beginners, intermediate, and advanced practitioners. Besides, it allows for modifications to support, and variations for those who want to push even further – it's truly one of the most diverse and beneficial workouts out there. All our coaches are trained to tailor the workout to any fitness level and work around any injuries. This makes Power a great option for anyone looking to improve their strength, flexibility, and overall fitness.
POWER VS. OTHER REFORMER WORKOUTS
Power is a concept unique to Velocity, which means we're not bound to follow a pre-set format. This allows us to continuously expand and perfect our range of exercises and their modifications. Our Power workouts also feature a distinctive "Power Push," which is designed to push your entire body or a specific muscle group to the point of exhaustion. These pushes are usually added to the peak or final part of a routine to maximize effort. One example of a Power Push set is the "Killer Core," which includes two to four exercises that completely fatigue the abdominal muscles, such as burpees, mountain climbers, and a final plank hold, all completed without rest.
If you're looking for the most effective workout to transform your body, regardless of your current fitness level, Power is the way to go.
Check out the schedule below and give Power a try.