Veloloco 2023: Everything You Need to Know

By Anna – 18 February 2023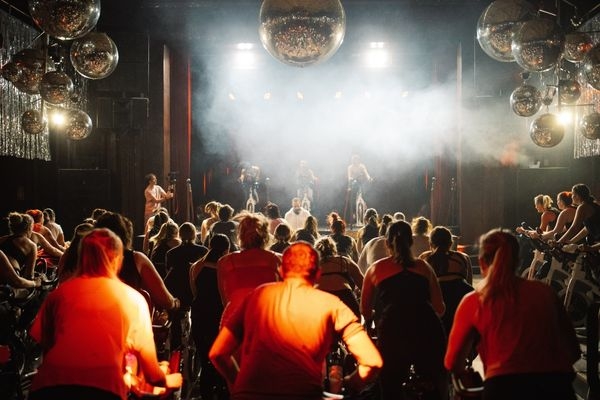 Are you ready to go loco at Veloloco? Zurich's biggest indoor cycling event is just a week away, so this is your last chance to join the action. Tickets are going fast, so hurry up and get yours to ride with your favorite coaches and special guest DJ MWP at Club Kaufleuten.

This year we're joined by some fantastic brands, so don't forget to take a peek into your goodie bag for a surprise. You'll also see our partners in the club foyer, be sure to check them out!
To make the most of this epic experience, here are some things you should know before your Veloloco ride on Saturday the 25.02.
CHECK IN
The doors at Club Kaufleuten, Pelikanplatz 18, 8001 Zürich, CH open at 9:15, 45 minutes before the first ride. We recommend you arrive 20-40 minutes before your scheduled ride. This leaves you time to mingle with our partners in the foyer and get checked in. Bikes are first come first served and the doors to the ride room (Klubsaal) will open 10-15 minutes before the ride. Please note that if you're not checked in 5 minutes before the ride starts, your bike will be given away and we unfortunately won't be able to let you in once the ride starts.
You can find our check-in area in the club foyer, which is on the corner of Nüschlerstrasse and Pelikanstrasse, with the door on the Nüschlerstrasse side.
RIDE SCHEDULE
There are 3 chances to join the Veloloco event on Saturday 25.02 at Kaufleuten.
10:00 Velobeat w / Aaron, Alessandra, Francesca R., Mirj | LIMITED SPOTS AVAILABLE
11:30 Veloburn w / Fabian, Felizia, George, Leticia | CURRENTLY SOLD OUT
13:00 Velobeat w / Aaron, Alessandra, Francesca R., Mirj | LIMITED SPOTS AVAILABLE
With your Veloloco ticket you not only get the chance to experience the incredible ride with over 70 riders, live DJ and light show, but you also receive a Velocity goodie bag. It is filled with samples, promo codes and chances to win bigger prizes from our amazing Velocity partners. PRACTICALITIES
Just a few things to know before we welcome you at Veloloco:
Shoes will be provided just to the left when you walk into the Kluubsaal.
Check your goodie bag for a special Veloloco towel.
Please bring your belongings to your bike so you don't lose track of them. Velocity is not responsible for the loss or theft of items.
There are unfortunately no showers at Kaufleuten.
Restrooms are located near the Foyer at the entrance.
We recommend bringing a drink and a change of clothes.
All rides are 50-55 minutes long.

Tickets are non-refundable
We can't wait to see you there. Let's go LOCO at Veloloco.